A few education-oriented items from around the area:
Teams of prospective engineers from throughout the area will be building pasta bridges, erecting skyscrapers with popsicle sticks and protecting dropped eggs from cracking.
That's all during Engineering Expo, set for Friday and Saturday inside Eaton and Learned halls at Kansas University.
The annual event and open house is billed as challenging students to design and construct projects for use in one of 11 engineering competitions. Among them: Uphill Battle, Volcano, Leaky Bottle and Rube Goldberg.
Rube Goldberg?
"Students are challenged to create a complicated system of simple machines in order to perform one simple task," according to the competition's official description. "This year's task is to shoot a tennis ball at a picture of Rube Goldberg himself."
Competing in this year's expo are teams from Free State High School, Lawrence High School, Southwest Junior High School, West Junior High School, Sunset Hill School and Veritas Christian School. Teams also will come from Baldwin City and De Soto.
Along with competitions for K-12 students, the public is welcome to view student organization displays and demonstrations. Several professors also will have their labs open for tours, from 9 a.m. to 2 p.m. Friday.
Also scheduled: a presentation from Engineering Student Council officers, at 9:30 a.m. Friday at the Lied Center, which is on KU's West Campus.
The expo will continue Saturday, with tours and engineering displays once again open to the public from 9 a.m. to noon at Eaton Hall.
•••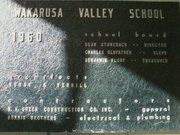 Members of the Lawrence school board formally will receive a recommendation Monday that they should close Wakarusa Valley School, which is located just southeast of Clinton Lake.
Some history:
The school itself was built in 1960 by its own school board. I wasn't around then, but I snuck a peek at the plaque inside the front door and saw some familiar and rather prominent names from the area:
• Dean Stoneback, director
• Charles Oldfather, clerk
• Benjamin Flory, treasurer.
In 1965, the Wakarusa Valley school board petitioned the Lawrence school board to become part of the Lawrence district, said Frank Harwood, who is chief operations officer for the Lawrence district.
On Monday, the Lawrence Elementary School Facility Vision Task Force agreed to recommend that the school be closed next year. The recommendation is scheduled to be received — but not acted upon — by the Lawrence school board during a meeting that is set for 7 p.m. Monday at district headquarters, 110 McDonald Drive.
Should the board agree with the task force and actually close the school — a decision that could come in March or April — the district would be left to decide what to do with the building and grounds. Rick Doll, superintendent of the Lawrence district, has said that it would be appropriate to hold onto the site in case it would become needed for a school sometime in the future.
Rich Minder, board president, previously had indicated that the building potentially could be used as some sort of community center for the Wakarusa Valley community.
•••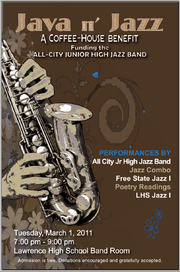 Ready for some cool tunes in a coffee-house atmosphere?
Check out the second annual Java 'n Jazz, a benefit concert for the All-City Junior High Jazz Band. The event is set for 7 p.m. Tuesday in the band room at Lawrence High School, 1901 La.
The concert is free, but "there will be plenty of opportunities to make a donation to keep this ensemble playing next year," said Mike Jones, band director at Lawrence High.
To be featured:
• All-City Junior High Jazz Band.
• Lawrence High/Free State Jazz Combo.
• Free State Jazz Ensemble I.
• Faculty Combo.
• Lawrence High Jazz Ensemble I.
• poetry readings.
— The First Bell e-mailbox is always open: mfagan@ljworld.com.
Copyright 2018 The Lawrence Journal-World. All rights reserved. This material may not be published, broadcast, rewritten or redistributed. We strive to uphold our values for every story published.