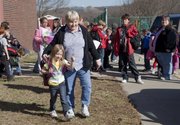 The recommendation to close Wakarusa Valley School was formed during the past eight months, as two dozen members of the Lawrence school district community discussed values, gathered data, compiled numbers, toured buildings, studied budgets and reviewed research to determine what they considered "best for kids" within painful budget restraints.
Could've fooled Mary Anne Blackwood.
"This is a wonderful school," said Blackwood, picking up her two grandkids Tuesday afternoon at Wakarusa Valley, 1104 E. 1000 Road. "They won't do as well next year. They won't do as well when they get moved into town and get crowded into those schools."
And as for the nearly $500,000 the district would expect to save next year by closing the school: "I don't think we'll get our money's worth out of this trade," she said.
Such sentiments weren't all that unusual Tuesday, a day after members of the Lawrence Elementary School Facility Vision Task Force identified a single school that should be closed in the district during the next five years: Wakarusa Valley, which has about 165 students.
Task force members did name six schools to be considered for future consolidation — Cordley, Hillcrest, Kennedy, New York, Pinckney and Sunset Hill — but that shift would come within three to five years, and only if the district passed a bond issue, and only after parents and teachers and administrators and others had been given a chance to huddle and discuss and determine what might work best for the kids, the neighborhoods, the institutions involved.
Wakarusa parents, meanwhile, will watch their school be recommended formally for closure Monday night, when board members receive the task force recommendation. Then they'll await the formal decision, expected in March or April. At any point, they can check in with respective principals at the schools the kids would be transferring to:
• Students living in rural Lawrence would go to Broken Arrow.
• Students living in Easy Living Mobile Home Park, behind SuperTarget, would go to Sunflower.
• Some students now attending Broken Arrow — and living along the east side of Kasold, between Clinton Parkway and 31st Street — would attend Schwegler.
"I'm in shock," said Cathy Wales, mother of 7-year-old Kylee. "I built a mile south of here for this school. I don't know what I'm going to do now. I don't like open classrooms (like those at Broken Arrow). I don't think she's going to do that well out there. I'm still totally in shock."
Rick Doll, district superintendent, said he would expect the school to be "mothballed" and kept within the district so that it could be opened at some point in the future, if necessary. The district owns the building and land.
Copyright 2018 The Lawrence Journal-World. All rights reserved. This material may not be published, broadcast, rewritten or redistributed. We strive to uphold our values for every story published.