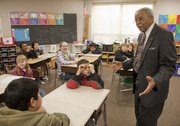 Jesse Milan can remember the first time he came to Lawrence to participate in the Kansas Relays. The year was 1943, and he was a high school track athlete. When he and his black teammates walked up to the student union, white people threw pennies at them as an insult. The city claimed to be progressive and open-minded, but Milan disagreed.
"Lawrence, Kansas, was not a free city," he said.
Milan, who was the first black teacher to be hired in the Lawrence school district, visited Prairie Park School Wednesday morning to speak with Cathy White's fifth-grade classes. Milan, 82, told the kids of his experiences in Lawrence as part of Black History Month.
"You probably read in a book that Kansas was a free state. Have you heard that?" Milan asked the students. "Biggest lie ever told."
Milan came to Lawrence to teach in 1954, soon after Brown v. Board of Education declared segregation unconstitutional. Minutes after he signed his contract, he received a phone call from an angry parent who didn't want a black man teaching his children.
That didn't stop him, though. Milan worked throughout the district as a physical education consultant, and many black residents came to him for advice about how to deal with racial issues they encountered. He encountered them himself.
"The shows were segregated. The restrooms were segregated. Employment was segregated. And here you had one black teacher in town," he said. "I had a great time."
In 1967 when the issue came up for a city pool where blacks and whites could swim together, Milan helped organize kids to knock on doors to get the bond issue to pass. He also helped organize a group at the skating rink, and from then on black and white children could skate together.
"I was ensuring all kids had an equal chance," he said.
He made such a difference that the district even celebrated Jesse Milan Day in 1997. Now Milan volunteers in the Kansas City, Kan., schools and is active in many organizations, including the NAACP.
Isabelle Ginavan, 11, was surprised to hear about Milan's experiences in Lawrence, something she didn't realize had happened in her town. Race isn't a concern among her classmates, Ginavan said.
"I don't think that a lot of people care about that anymore," she said.
Copyright 2018 The Lawrence Journal-World. All rights reserved. This material may not be published, broadcast, rewritten or redistributed. We strive to uphold our values for every story published.