Lawrence resident Diane Guthrie remembers sailing with her husband, Jim, and father-in-law, "Captain Bob" Guthrie years ago.
"We spent a lot of time sailing the Great Lakes," she says. "But my goal at that time was to stay out of the way and to work on my tan."

Several years ago, however, after Guthrie's husband purchased his own sailboat, her goals changed. "Now that we own one, I'd like to learn how to actually sail it," she says.
Fortunately, for Guthrie, there is a place for her. Right here in Kansas. Right now, in the middle of winter.
The group is the Sailing Sisters, and they meet monthly from January to April to hone their sailing skills.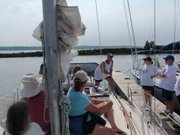 "We have women from all over," says leader Joan Allen, Leawood. "Some are experienced blue water sailors, and others are complete beginners."

The group was Allen's brainchild and came about after being on the lake with a friend. "(We) pushed off from the beach at Perry Yacht Club and settled into a warm, wet and wonderful afternoon in the sun. Feeling completely spoiled with the cooler safely strapped to the mast, conversation turned to how much fun this was and how we needed to get more women out on the water sailing.
"It is unfortunate (how many) times women take the back seat to their male counterparts when sailing," Allen says. "Usually it is the husband or boyfriend who gets the sailing bug and drags along his reluctant wife or girlfriend who is unsure of a tippy boat out on the water in windy conditions."
Allen set out to change that.

The group has evolved over the years and started as a women's-only sailing day at Perry Yacht Club. That day, 40 women sailed 11 boats ranging from an 11-foot Sunfish to a 32-foot Catalina, and Allen wasn't the only one to see the benefits of the endeavor. "I think the men saw that if their spouses learned to love sailing, then they would in turn get to spend more time sailing and have a better time on the water, too," she says.
Winter months are long for those in the Kansas sailing world. "We miss sailing and our sailing friends," Allen says. To combat that problem, she and her friends began to think about getting together during the off-season, not only to see one another, but also so they could improve their skills but, she says, "we needed someone to teach us."
Enter Bruce Liese, a man who is as passionate about teaching as he is about sailing, and a man who is an instructor evaluator for the American Sailing Association and a licensed U.S. Coast Guard Merchant Marine captain. "I've spent all of my adult life teaching and sailing," he says.
Sailing Sisters is a way to bring both of his loves together.

But Liese doesn't spend all of his time on the water: He is a professor of family medicine at the University of Kansas Medical Center, member of the Lawrence-Douglas County Planning Commission and owner of a sailboat dealership in North Lawrence, Kansas City Sailing.
Liese understands how sailing can get into a person's blood. While doing his residency in Kansas City, "I used to look out the window, and whenever I would see those trees swaying, I was planning my escape."
His escape, in those days, was to the lake at Shawnee Mission Park on a rented sailboat.
Since then he has sailed all over the United States and in other countries such as Canada, Mexico, Italy and Israel, and he joyfully shares his triumphs, as well as his failures, to all those interested in sailing.
Sailing Sister Kathy Perkins, Lawrence, who sails a Catalina 375, enjoys the classes at Liese's store and his creative teaching methods. "We have played Jeopardy, and sometimes he gives us these 'mystery objects,' which are different parts of the boat, and we have to try and figure out what they are by looking around the shop.
"Every class has a different focus, from learning about the different parts of a boat, to understanding points of sail and sailing theory," Perkins says. "There is something about a group of supportive women. I think it is less intimidating for some, and there is definitely a different dynamic."

The next class is titled Sailing Lessons Learned the Hard Way, and perhaps Liese will tell the sisters about his first sailboat.
"My buddies and I bought it at a yard sale. It was powder blue, and I think we paid $15 for it … We were so proud of that boat. We took it out to the lake, and it sank!"

Sailors in Kansas know that sailing in this part of the country can be difficult. "It's not like the steady trade winds in the Virgin Islands," Perkins says. "It's tricky sailing in Kansas. The winds are complicated."
Liese concurs, adding that sailing on a lake is different from sailing on larger bodies of water. "You're limited how far you take the boat," Liese says. "You have to continually tack or jibe the boat."
So, for Guthrie, and others like her, who want to learn how to sail and "navigate a 30-foot sailboat into a slip without smashing into the dock," there is a supportive group to help them sail the waters of Kansas.
Copyright 2018 The Lawrence Journal-World. All rights reserved. This material may not be published, broadcast, rewritten or redistributed. We strive to uphold our values for every story published.