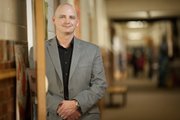 -->
Editor's note: This is one of the articles in a series of profiles on the five candidates who are seeking three at-large seats on Lawrence City Commission. The general election will be April 5. The candidates are Sven Alstrom, Hugh Carter, Mike Dever, Mike Machell and Bob Schumm.
Everybody grieves differently.
That's how Hugh Carter explains the decision that he knows has caused some people to scratch their heads. Carter is one of five candidates for the Lawrence City Commission, despite a list of personal tragedies that would cause many men to do anything but seek out a public spotlight.
In 2003, Carter's younger brother died unexpectedly at the age of 32. Then three years ago, Carter's son Rees died at age 13 of an apparent suicide. Just four months ago, Carter and his wife finalized their divorce — a marriage that fell victim to the tremendous sorrow from the loss of their son, Carter said.
But in October — a full three months before the filing deadline — Carter launched a campaign for the Lawrence City Commission. He says he knows a City Commission campaign is not the typical decompression chamber.
"I tried to decompress, and I found that time off was not good for me," Carter said.
Carter — who is the son of Ed Carter, a Lawrence mayor in the 1980s — kept working as a financial adviser for Lawrence's Wells Fargo Advisors and even kept serving on the Lawrence-Douglas County Planning Commission. He said he remembers thinking how a roomful of angry people at a Planning Commission meeting felt better than many other things in his life.
So he decided to take it a step further with a run for the City Commission.
"I was pretty lost for a while," Carter said. "But I have two other boys, and they are certainly reason enough to move on. They are watching."
Carter, 44, said he's confident his personal sorrows won't get in the way of serving as a city commissioner. He said that, in a way, he has more time than ever to devote to the job since his two sons — 18 and 14 years old — are now living with their mother.
"I've always been in a rush to get home and be with the family," Carter said. "But I'm very much in a transition now. I'm living in an apartment, and I have no real rush to get home."
But Carter said he doesn't want voters to think he's running for the City Commission as therapy. He's had a desire to serve for quite some time and was concerned that two of the three incumbents up for re-election chose not to seek a second term.
But it is also true that there's a personal side to this decision that goes beyond politics. Carter remembers very clearly asking his two teenage sons what they thought of his idea to run for public office.
"Their first reaction was, 'You really think someone is going to vote for you?'" Carter said. "They are kind of at a tough age to read, but I could really tell that there was a part of them that was proud. And that made my decision real easy."
A traveling man
Carter is pretty much a Lawrence native. His father was an executive with Southwestern Bell, and Carter moved to Lawrence when he was 1.
He roamed the Indian Hills neighborhood as child, graduated from Lawrence High School and then went on to Kansas City Kansas Community College to play baseball. (He was a teammate of David Segui, who went on to have a successful major league career.) After about a year, Carter said it became clear he was a better teammate than a student.
After leaving school, he packed up his Jeep and headed to Lake Tahoe, on the border between Nevada and California. He wanted to learn to ski. It was a good plan, except that on his first day there, he fell down a flight of stairs and broke his thumb.
But he did end up landing a job. He handled room service chores for Harrah's five-star casino and resort. He quickly ended up getting promoted to a waiter, then to a supervisor of waiters, and eventually Harrah's convinced him to finish his degree. He graduated from the University of Nevada - Las Vegas' college of hotel administration in 1995.
Then, life became an adventure. He figures that in 11 years he and his family lived in about nine states — Nevada, Colorado, California, Washington, West Virginia, Kentucky and Nebraska among them. For the casino companies — both Harrah's and Ameristar — he mainly was a food and beverage specialist. Then he switched gears and became a specialist in turning around distressed hotels for John Q. Hammonds and other private hotel operators.
Carter — who has been back in Lawrence since 2006 — thinks his travels would serve him well as a city commissioner.
"It has given me perspective," he said. "I have lived in a lot of places and been a part of a lot of new businesses. You get to see how people welcome you or don't welcome you."
The jobs also gave him experience managing large organizations. As food and beverage director for Ameristar's large Omaha casino, he oversaw a staff of nearly 600 people.
"I was at a lot of properties that needed help, and I always tried to figure out whether we were treating the symptoms or whether we were treating the problems," Carter said.
Issues
Carter says Lawrence's economy has both some symptoms and problems, although he said the city has fared better than several other communities.
He estimated he's had about 45 "coffee meetings" with Lawrence residents since he filed for office.
"I've had a hard time getting people to identify issues, but I think people do recognize that we need to increase jobs and increase incomes," Carter said.
He said while unemployment rates look decent in Lawrence, underemployment is a significant problem.
As a former planning commissioner, he said he's already seen too many development projects turn contentious. He said he wants City Hall to combat that by becoming more proactive in identifying new locations — particularly in-fill locations — that are ripe for development. Then he wants the city to work with property owners and neighbors to fully plan the areas so that they could be marketed to potential tenants without the fear of protracted City Hall battles.
"It really would be a real 180 on how we do things," Carter said.
Copyright 2018 The Lawrence Journal-World. All rights reserved. This material may not be published, broadcast, rewritten or redistributed. We strive to uphold our values for every story published.