Photo Gallery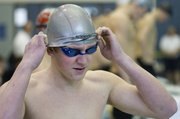 2011 6A state swimming championship
Topeka — After gutting out a sixth-place finish in the grueling 500 freestyle, Lawrence High junior Zach Andregg wanted little part of getting back into the water — especially not before taking a few minutes to catch his breath.
But, with Saturday being the finals of the boys swimming and diving state championships, Andregg, still exhausted from his 20-lap race, sucked it up and hopped back into the pool for the 200 freestyle relay.
"We count on him to pick up a few people at the end of relays," LHS coach Kent McDonald said. "And the 200 relay is right after the 500 freestyle, so that's a really hard double."
With Andregg anchoring, LHS took 13th in the 400 freestyle relay (3:30.32) and 15th in the 200 freestyle relay (1:35.83) en route to a 17th-place finish overall at the natatorium at Hummer Sports Complex.
"The only place we could go was up," said Andregg, who was named second-team all-state after his seventh-place finish in the 200 freestyle (1:46.38) and his sixth-place finish in the 500 freestyle (4:49.96).
In front of the raucous crowd in the packed natatorium, the Free State High team finished in 10th, bolstered by a strong day from second-team all-state performer Ben Sloan.
"Overall we did a great job," FSHS coach Annette McDonald said. "The guys had good times, and they swam well. I'm really proud of their hard work and effort all season, and especially today."
Blue Valley North edged Olathe East, 269-248, to capture the state title, despite OE junior Ben Bravence's two individual first-place medals.
Sloan, only a sophomore, placed sixth in the 200 individual medley (1:59.33) and fifth in the 100 butterfly (52.59).
Additionally, Ben Sloan was part of FSHS's 200 medley relay team (with Nolan Frank, his brother Logan Sloan and Tony Libeer) that took eighth, and the 400 freestyle relay team (with Frank, Canaan Campbell and Ethan Fisher) that placed 10th.
"He came out and swam personal-best times today — both of them," Annette McDonald said. "So you've got to be pleased with the place when you swim that well."
Andregg, the only Lion swimmer to qualify in an individual event, began his day by taking seventh in the highly competitive 200 freestyle.
A short break and a few events later, he hopped into the water for the 500 freestyle, where he fell off the pace a bit earlier than he anticipated.
Andregg said he could feel his stamina slipping away, but churned through the final five laps and, gasping, looked up at the scoreboard in amazement.
"When I looked up there I did like a triple-take when I saw sixth place," Andregg said.
The Firebirds' 200 freestyle relay team (Libeer, Connor Munk, Chris Helt, Logan Sloan) also placed seventh, and Frank took fourth in the 100 backstroke at 53.99.
"Just to be standing up on that podium is so exciting," Frank said.
The other city swimmers to compete Saturday: Fisher placed 13th in the 500 freestyle and 15th in the 200 freestyle, Campbell took 14th in the 200 freestyle, and Logan Sloan finished 14th in the 100 butterfly.
Frank, who swam for the final time as a Firebird along with fellow seniors Logan Sloan and Tony Libeer (Will Libeer, also a senior, did not swim), was a bit reflective following the meet, but said he was proud of the way the team competed all season and hoped that the younger members of the team will continue to improve.
"Finals today were just icing on the cake," Frank said.
Copyright 2018 The Lawrence Journal-World. All rights reserved. This material may not be published, broadcast, rewritten or redistributed. We strive to uphold our values for every story published.