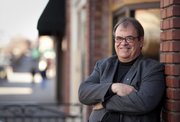 -->
Editor's note: This is one of the articles in a series of profiles on the five candidates who are seeking three at-large seats on Lawrence City Commission. The general election will be April 5. The candidates are Sven Alstrom, Hugh Carter, Mike Dever, Mike Machell and Bob Schumm.
For a while, it was the Rocky Mountain high life.
Lawrence City Commission candidate Sven Alstrom lived for 14 years in Aspen, Colo., and another two years in Boulder. There were some good times, Alstrom says. Potluck dinners with the founder of the Quark software program. A friendship with Sen. John Warner's daughter, who also is the granddaughter of banking mogul Paul Mellon. Visits with former U.S. Congresswoman Pat Schroeder about their shared love of the Keeshond breed of dogs.
The rarefied air of Colorado's wealthiest communities helped shape Alstrom, but don't expect him to run a city commission campaign trying to convince Lawrence residents that the city ought to become more like Boulder or Aspen.
"I loved it, but it was like treading water economically," Alstrom said. "Boulder is expensive. Aspen is exorbitant."
As an architect — Alstrom is the owner and sole employee of Lawrence-based Ecological Architecture — he won design awards in Aspen (the former Gap building in Aspen is his design), served on downtown committees, and was part of a group that studied light rail options for the community.
But he never did get over that treading water stage. Following 9/11, his business took a downturn and he decided it was time to return to Lawrence — where he had graduated from Kansas University in the 1970s. By 2004 he was living in Lawrence, and he also had filed for Chapter 7 bankruptcy protection.
"It was an unfortunate result of our cyclical economy," Alstrom, 59, said.
It is not a result, though, that he said should disqualify him from being a Lawrence city commissioner. Instead, he said going through ups and downs have provided him perspective. It also has provided him an unofficial slogan that isn't all that common in city commission campaigns.
"I think Lawrence sometimes kicks itself, but really I think we're doing OK," Alstrom said. "You have to remember to look at how everybody else is doing. I think we're doing most things right."
An active voice
That doesn't mean, however, that there have been any shortage of items for Alstrom to talk about. He was one of the more vocal critics of The Oread hotel project north of KU. He said he opposed the project on historic preservation grounds — Alstrom is a former member of the city's Historic Resources Commission — though he said he also didn't like the design of the building. But he also freely admits the project has ended up being a positive for the Lawrence economy.
Alstrom also was active among a group of Centennial neighborhood residents who opposed parts of the school district's plans for new athletic facilities at Lawrence High. He ended up being one of seven plaintiffs in a lawsuit against the district, which eventually was settled out of court when the district agreed to make some design changes to the project.
Alstrom's home — a 1950s cement home built for the Penny family — abuts the new softball field. Alstrom said there are still a few aspects he doesn't like about the project, but he's generally pleased with the end result.
In the nearly eight years since he's been back in Lawrence — he grew up in Wyandotte County, the son of a businessman who owned a title insurance company — he's been involved in other issues. The scholarship halls in the Oread neighborhood were a hot issue that he became active in when he first arrived in the city, and he said he once applied to be a long-range planner for the city of Lawrence.
"I really would have driven people wild as a long-range planner," Alstrom said.
Alstrom does admit that he sometimes can be a bit of a lightning rod. Alstrom once was generally considered to be a prolific commenter on the Journal-World's online forum. Until he filed for city commission — he filed five minutes before the deadline — he had been banned from the forum by LJWorld.com moderators for activity that violated the site's terms of service.
But Alstrom disputes that he got out of line on the site, especially when compared with other commenters. Instead, he said some people just don't like to hear his opinions.
"It is like they are xenophobic," Alstrom said of other commenters. "If you don't agree with them, they go crazy."
Issues
Alstrom's stance on several issues can be complex. For example, he said that he does think Lawrence's retail industry is overbuilt, but that he wouldn't try to stop new retailers from building here. He's also a historic preservationist but said that he thinks downtown Lawrence needs to be open to change.
"I had a biology textbook titled 'Grow or Die,'" Alstrom said. "That is a basic law of nature. Historic preservation doesn't mean you put downtown under a bell jar. We have to let downtown grow."
He also said he's tired of hearing rhetoric about Lawrence being a community that is unfriendly to business. He said that Lawrence is a welcoming place for business, but that the community just wants to go about attracting businesses different from a place like Johnson County. Alstrom uses the phrase "economic gardening" to express the idea of tending to businesses that are existing and homegrown. He said places like Johnson County use a lot of "Miracle-Gro," such as tax abatements and other incentives.
"I think we're saying we want to be a little more sustainable, a little more organic here in Lawrence," Alstrom said.
Copyright 2018 The Lawrence Journal-World. All rights reserved. This material may not be published, broadcast, rewritten or redistributed. We strive to uphold our values for every story published.