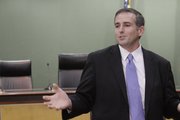 Audio Clips
Lawrence Police chief Tarik Khatib
As he was vying for the police chief job with three other candidates from outside Lawrence, Tarik Khatib talked about both knowing the Lawrence Police Department from the inside out and still bringing in new ideas from the outside.
After City Manager David Corliss tapped Khatib on Friday for the job, the nearly 19-year veteran who has worked only in the Lawrence department spoke about how he sees his responsibilities in replacing longtime chief Ron Olin, who retired from the job last year.
"I'm here to serve the community, serve the officers and never violate that trust," he said.
Khatib, a 1991 Kansas University graduate who started as a Lawrence officer in June 1992, sat down with the Journal-World to answer questions about his priorities as the new police chief and his career.
You've talked about Lawrence's crime rate being higher when compared to other Kansas and university cities. For reducing that, what will be your top priorities?
Khatib: Globally, our top priority is going to be continuing on the program we've already started, and that is increasing our public interaction and engagement with the community.
We've met privately with various different individuals and some groups, and I want to take that up a notch and meet with a larger percentage of people and get from them what their expectations are for the police department over the coming months and years.
Specifically about the crime rate, three things we need to do to reduce that is work on education of victims, work on education of the community as far as how to prevent being a victim of a crime.

Also to develop strategies in the police department whether through efficiencies or articulation of perhaps more resources at some point down the line, like how we get about solving crime and holding the 10 percent of people who do 90 percent of the crime accountable.
A third component's going to be environmental design, getting involved in education of the community about how we can create a safe environment so those crimes don't occur. Those three components are going to be something we look at.
You talk about interacting with the public. Do you have an overall philosophy about being transparent with the public?
Khatib: My overall philosophy is if I can't provide you, the public, with the information you need to make decisions about public safety, about other things that affect your lives from a public safety point of view, then I've failed in my mission.
A lot of the things we're doing is just increasing access to information. If you look at our website, we've redesigned that. And it's a work in progress.
It's like when they launch a new ship. They put the hull in the water after the generator's in and it's watertight, and then they continue to build the masts and the stairways and whatnot. That's what we're trying to do with our program. We're trying to put the hull in the water and then build upon it, so it's not a complete picture. And it will never be complete. It will always be a continuing project to work on.
Some of the things we're doing now that we can provide is crime mapping. We're working on pretty soon releasing the previous 48 hours of what police activity in the community has been. So they can see where we're going, what we're doing. We continue to post stories about the things our officers are doing in the community, showing our commitment to working with the community and also some of the fine work we're doing.
In addition, we're also including information on the website that people want to know as far as crime prevention and who to contact if you have questions and those kind of things.
You mentioned taking a more active role in environmental design. Is that taking a more active role in security on new building construction? How do you see that working?
Khatib: That's one component, being involved in the planning. But the other thing is some communities have sent officers to specific training on crime prevention through environmental design.
It's a whole philosophy and a whole theory of how to do that, and they come back to the communities and have forums where builders or homeowners can come in, and we give them information. So there's informal ways of doing it, there's also formal ways of doing it.
And we're going to be sending, hopefully, an officer to some of that training coming up and, hopefully, when that officer comes back we can get some of that information digested by us and somehow put out to the community.
Could an example be if there are plans for a new apartment building?
Khatib: Sure, even simple things. If you put up a solid wood fence, that's a little less costly in the initial, but that might allow people to hide behind it or interrupt your light pattern. So it's getting people to understand there's always tradeoffs with something and that the cheapest way to do something is not always the best way. If you put up a good iron railing fence that you can see through, that gives people less opportunity to hide behind it.
Where does the department stand with the level of women officers compared to a national or regional scale?
Khatib: It depends on which article you read, but anywhere between 10 percent to 15 percent is how nationally women are represented in law enforcement. Our department now is 6 percent or 7 percent, so clearly we're below the national average.
Some of the things we're doing to increase that is looking at different ways to target women for recruitment. So if we can get more people in through recruit academies, then there's a higher likely chance in the future we're going to have more women in the workforce.
And we're also trying to develop role models as women police officers. Of the women police officers we have, how are they becoming role models? (We are looking at how) they are involved in the community so that other females in society can look at them and say, "That's a positive role model as a female law enforcement officer" and get people interested in wanting to be a law enforcement officer.
You've spent your entire law enforcement career here in Lawrence. Is there a single person who has had the biggest influence on your career?
Khatib: That's a tough question. I've had a career of almost 19 years, and I think there has been multiple people who have had a big influence on my career.
Initially, in my earlier days, a person that had a lot of impact was retired Capt. Dan Affalter. I worked a lot for him when I was in the drug unit. I worked for him when I was in detectives, and he was very community-oriented.
He believed in police officers interacting with the community and having membership on community boards and being a representative not just as a police officer, but also as a member of the community. He developed in me a strong investigative ability and mentored me through a lot of those things.
Later on in my career, as I got closer to the office of the chief and interacted with the office of the chief, chief Ron Olin had a big impact on me.
I learned a lot from him about professionalism, about the importance of relationships with other law enforcement agencies and prosecutors' offices. And the fact we're not an isolated law enforcement agency. That it's a totality that we have to have good relationships with law enforcement across the country and federal agencies to utilize the full force of law enforcement across the nation because crime is not local. It can move around.
Those two individuals have had the biggest impact career-wise, in addition to my family, as well.
Copyright 2017 The Lawrence Journal-World. All rights reserved. This material may not be published, broadcast, rewritten or redistributed. We strive to uphold our values for every story published.