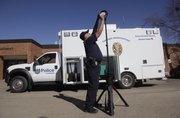 Zach Thomas, a Lawrence police detective, steps out of the back of the department's new ambulance-type vehicle.
Thomas, who inspects crime scenes, has just spent time inside opening various drawers and cabinets that house everything from tools that officers will use to dig bullets out of walls to a chamber used to preserve fingerprints.
The department's new forensic investigations vehicle, purchased with a $155,000 Homeland Security grant, is much larger than the old one the department had. It will allow investigators to take more tools to crime scenes and, it is hoped, enable them to collect more and better evidence quickly, Thomas said.
"The sooner we find out information, the sooner we can get leads," Thomas said while giving a tour of the vehicle.
The department bought the Ford F-550 cab and chassis from Laird Noller Automotive in Lawrence, and Brown Cargo Van Inc. of Lawrence constructed the chamber, which was designed with input from detectives and city garage staff members.
Investigators have been using it for the last couple of months, including at a December armed robbery at Walmart, 3300 Iowa. But it also can be deployed across the state to help respond to emergencies, such as a tornado, Thomas said. Lawrence police are close to finalizing an agreement to allow other agencies in northeast Kansas to use the vehicle in certain situations.
Thomas demonstrated several new features of the vehicle that investigators will use. The size of the chamber will allow officers to meet inside and discuss aspects of a case while they're still at the scene, and there is a bathroom inside, which is important for detectives who can frequently be at a crime scene for hours and hours, he said.
A large deck on top of the chamber will give investigators a chance to get up high to take photos, and they have new battery-powered portable light sets that can illuminate an area after dark.
"To find evidence we have to be able to see," Thomas said. "Lighting at a crime scene is very important."
Copyright 2018 The Lawrence Journal-World. All rights reserved. This material may not be published, broadcast, rewritten or redistributed. We strive to uphold our values for every story published.