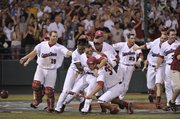 College baseball's pings will have a little less zing this season.
New aluminum bats designed to improve player safety will be in full swing as the road to the College World Series begins today with season openers around the country. And don't expect to see as many big blasts when you head to the ballpark.
"I think most people will tell you their home run totals were down this fall by at least 50 percent, some more," said coach Ray Tanner of defending national champion South Carolina. "It remains to be seen what exactly is going to happen. Pitching and defense will always give you a chance to win. It may be even at a greater premium."
The new bats mandated by the NCAA replace the lightweight composite models used in recent years, when the focus was on the differential between bat weight and length. Now, they'll perform even more like wood, with shrunken sweet spots that will decrease the exit speeds of the ball off the bat.
That means lower power numbers and ERAs while everyone learns to adjust.
"I think the guys that can hit will still hit," said TCU coach Jim Schlossnagle, who wasn't in favor of the new bats. "But certainly there's going to be fewer balls leaving the ballpark than in years past."
And that won't be the only big difference in college baseball this year. In an effort to shorten games, which soar past the three-hour mark on average, the NCAA has introduced a pitch clock. Pitchers will have 20 seconds, with no one on base, to throw a pitch or umpires will call it a ball. It'll be a strike if a batter violates the rule by stepping out of the box.
Teams will also have 90 seconds to change sides between innings during non-televised games.
"If your catcher just flew out and he's rounding second or getting to second base on a flyout or he was at second as a runner, I think you have a shot if you're not paying attention to be challenged between innings," Kentucky coach Gary Henderson said. "But it's going to speed the game up, there's no question."
The changes might not matter much to Florida International's Garrett Wittels, who enters the season with a 56-game hitting streak — two shy of Robin Ventura's Div. I record, set in 1987. Wittels will pick up where he left off on the field last season in the Golden Panthers' opener tonight against Southeastern Louisiana.
But Mainieri also says that after watching his players use the bats, he isn't sure the change will be that dramatic.
"The game is still going to be a very fundamental game," he said. "We're not going to sit around and wait for the three-run homer like in the past. We've got to get them on, get them over and get them in."
Baylor coach Steve Smith, a former Bears pitcher, was all for the new bats.
"I immediately loved it," he said. "I know I'm a pitching guy and all the hitting guys are going to take another view on this. But I really think that we got our game back and from that, you know little things are going to matter, the process of how you play the game is going to matter."
Especially when your sights are set on getting to Omaha. But the destination every college baseball player and coach has envisioned reaching for the last 61 years — Rosenblatt Stadium — has changed. The longtime home of the College World Series is being replaced by the new TD Ameritrade Park in downtown Omaha, a 24,000-seat ballpark that includes 30 luxury suites and 2,500 club seats.
Players to watch
Some of the top college baseball players to watch this season:
• Jeremy Baltz, OF, sophomore, St. John's. National freshman hitter of year set school records for home runs (24) and RBIs (85) — tops among Division I frosh players — while batting .396 and starting every game.
• Trevor Bauer, RHP, junior, UCLA. Went 12-3 with 3.02 ERA for College World Series runner up, while striking out school-record 165 and becoming first Bruins pitcher to lead nation in Ks.
• Jackie Bradley Jr., OF, junior, South Carolina. Most Outstanding Player at College World Series was sparkplug for champion Gamecocks with 13 HRs, 60 RBIs and .368 batting average.
• Gerrit Cole, RHP, junior, UCLA. Followed up impressive season with Bruins (11-4. 3.37 ERA, 153 Ks) by being rated No. 1 prospect on USA Collegiate National Team by Baseball America for second consecutive year.
• Cole Green, RHP, senior, Texas. Big 12 pitcher of year was 11-2 with 2.74 ERA and was drafted by Detroit in fourth round last June, but opted to return to Longhorns.
• Danny Hultzen, LHP, junior, Virginia. School's first player to win ACC pitcher of year went 11-1 with 2.78 ERA and 123 Ks and already ranks among Cavaliers' career leaders in wins (20) and Ks (230).
• Mike McGee, RHP-OF, senior, Florida State. One of top two-way players in country finished third on team with .328 average, while leading in HRs (17) and RBIs (73), and also going 4-1 with 2.96 ERA and 13 saves.
• Matt Purke, LHP, sophomore, TCU. Baseball America freshman of year was 16-0 with 3.02 ERA and 142 Ks while leading Horned Frogs to first College World Series appearance in school history.
n Noe Ramirez, RHP, junior, Cal State Fullerton. Ranked among Big West leaders with 12-1 mark, 119 Ks and 2.54 ERA despite missing nearly a month with broken wrist. Had five saves for USA Collegiate National Team during summer.
• Anthony Rendon, 3B, junior, Rice. Dick Howser Trophy winner as nation's top player was among NCAA leaders in HRs (26), RBIs (85) and walks (65) while also hitting .394 and making just four errors all season.
• George Springer, OF, junior, Connecticut. Hit .337 with 18 HRs and 62 RBIs for Huskies while also stealing 33 bases in 35 tries and setting school marks with 60 walks and 84 runs scored.
• Karsten Whitson, RHP, freshman, Florida. Ninth overall pick by San Diego in last year's draft turned down offer from Padres and opted to pitch for Gators after being one of top high school pitchers in country.
• Garrett Wittels, SS, junior, Florida International. Enters season on 56-game hitting streak, just two shy of longest in Division I history (Oklahoma State's Robin Ventura, 1987). Sun Belt player of year was cleared by school to play in team's opener after he was charged in pending rape case in Bahamas in December.
Copyright 2018 The Associated Press. All rights reserved. This material may not be published, broadcast, rewritten or redistributed. We strive to uphold our values for every story published.