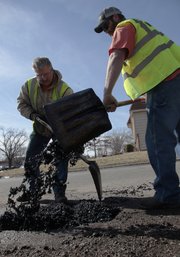 Sure the cold weather in January and early February was miserable. But there's a sliver lining in all of those cloud covered skies: fewer potholes.
With temperatures rarely rising above freezing, Lawrence hasn't seen the pothole-creating freeze and thaw cycles that are usual this time of year.
"Typically we experience two (cycles) a day," city of Lawrence assistant public works director Mark Thiel said. "We just haven't had that this winter. The temperature had gotten cold and stayed cold."
But that doesn't mean with the arrival of spring-like weather, Lawrence is pothole free. In just two days last week, Lawrence maintenance crews fixed 444 potholes.
But that's about half the amount the crews would fix during the pothole ridden winter of 2010, which had days when 400 to 500 potholes were repaired.
"It really is not so bad," Thiel said of this year.
Also helping to keep potholes from reappearing is the city's new $168,000 piece of equipment that allows road crews to spray a chip seal-like substance into potholes. The method is suppose to be faster, require fewer workers and provide a longer-lasting fix.
Last fall, city crews used the machine to patch as many potholes as they could.
"The majority of those patches are in place," Thiel said. "So it is working, yes."
Automobile repair shops have seen plenty of work from collisions that occurred on ice-covered roads, but so far they haven't seen the damage from potholes that they did in past years, a few local shops noted.
Still drivers need to be cautious, said Jim Hanni, executive vice president for AAA Kansas.
Along with causing damage to vehicles, Hanni said sizable potholes can be dangerous for drivers if they lose control of their vehicle or swerve to miss large holes.
Here are his tips for navigating around and through potholes:
Keep a close eye on traffic patterns. If cars start slowing down or move to other lanes, it's a good sign that a major pothole is ahead. Also watch out for puddles, they can disguise potholes.
If you see a pothole, slow down. Avoid hitting potholes directly. And, don't swerve around a large one, which could cause you to lose control of the car.
Keep tires inflated properly. Not doing so could cause wheel damage or a tire blow out when going over a pothole.
Listen for unfamiliar noises and vibrations and watch for a steering wheel that pulls to the left or right, which could point to damaged caused by a pothole. Potholes can cause lost hubcaps, misaligned wheels, damaged undercarriages and bent axles.
Copyright 2018 The Lawrence Journal-World. All rights reserved. This material may not be published, broadcast, rewritten or redistributed. We strive to uphold our values for every story published.