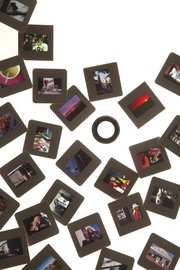 Kansas isn't particularly colorful in winter. Except at Dwayne's Photo in Parsons. During the last two weeks of 2010, over 20,000 rolls of Kodachrome color slide film was shipped to this southeast Kansas lab. Kodak stopped making the film in 2009 and on Dec. 30, 2010, Dwayne's — the last lab in the world processing Kodachrome — accepted the final roll. Apparently photographers of Kodachrome are procrastinators.
"It was like being hit by a tidal wave," said Grant Steinle, vice president of operations at Dwayne's. "During the last two weeks we saw about 12 times our normal Kodachrome film volume."
Steinle, a 1986 Kansas University graduate with a Masters in business administration, lived in Lawrence until 1989 when he joined his father Dwayne at Dwayne's Photo. By 2010 they had positioned themselves as the last lab processing the film. From China to Poland, Kodachrome 35mm film, Super 8 and 16mm movie film arrived in the mail to meet the final deadline. An artist from London, wanted her rolls processed in the last batch so she flew to Parsons for a hand delivery.
"A gentleman from Arkansas had 1,580 rolls of Kodachrome that he brought in for processing," said Steinle. Jim DeNike, a 53-year-old railroad worker, had been photographing trains for years but hadn't developed them. The bill was $15,798 for about 50,000 slides. "He had to borrow from his father's retirement account to pay for the processing." said Steinle.
Kodachrome, manufactured by Kodak from 1935 to 2009, was the first mass-marketed color film. Professional photographers favored it for its archival quality and its saturated color palette. If you weren't photographing with it you were a witness to it's images. Abraham Zapruder's 486 frames of Kodachrome 8mm film, captured the assassination of President Kennedy. For most of its history it was the film of choice for National Geographic Magazine.
Bill Snead, Lawrence, former editor and photographer at the Journal-World, Washington Post and National Geographic is familiar with the famous film in the yellow box.
"When you shot Kodachrome you had no latitude for error." Snead said. "There was one exact exposure and all others made your slide too light or too dark. There was no Photoshop to lighten or darken your slide. You either had it or you didn't."
But the unique color quality of the film could save an assignment. Like the time Snead used 50 ASA Kodachrome to photograph a fashion model on a hotel rooftop. "The only ambient light I could find to use was an exit sign over a doorway," recalled Snead. Mixing the dim light sources in a long exposure shot, Snead captured an image chosen best fashion photo in that year's Pictures of the Year competition.
Kansas native Jim Richardson, Lindsborg, a photojournalist working primarily for National Geographic, recalls his early days with Kodachrome and the anticipation of a postman delivering yellow boxes in the mail. "Then the rush to open the box, full of hope that I had somehow, miraculously, done something right and a fantastic image awaited me." said Richardson. "It was sharp and pictures looked important when shot on Kodachrome.
The last roll of Kodachrome was given to freelance photographer Steve McCurry in 2009. A National Geographic film crew documented McCurry as he traveled the world photographing the 36 frames. He ended up at Dwaynes for processing. "He shot a portrait of Robert De Niro in New York and a remote tribe of migrant herders in India," said Steinle, who got to witness McCurry edit his work. McCurry noted how the herder's vanishing way of life because of new technology was analogous to what had happened to Kodachrome. Appropriately, McCurry's last Kodachrome moment was captured at Parson's oldest cemetery. National Geopgraphic plans a spring TV special on McCurry's last roll.
Digital images now match Kodachrome quality and the charm of the bright yellow box has faded. Even Paul Simon's plea "mama don't take my Kodachrome away," from his 1973 hit song can't save the film. "I don't pine for Kodachrome." said Richardson. "I remember it fondly but photographic technology has forged ahead and our modern digital cameras eclipse anything we could produce back then."
Business at Dwayne's Photo continues but the end of Kodachrome marks a significant milestone.
"The disappearance of Kodachrome has resonated with photographers and people in the photographic community in a way that no other film has," said Steinle. "This has been a unique event with Kodachrome that I don't think will ever happen again."
The last frame on the last processed roll of Kodachrome was shot by Grant's father Dwayne. It was the staff of Dw ayne's outside the business, all wearing their special yellow Kodachrome shirts. Kodachrome: 1935-2010. Colorful to the end.
Copyright 2018 The Lawrence Journal-World. All rights reserved. This material may not be published, broadcast, rewritten or redistributed. We strive to uphold our values for every story published.