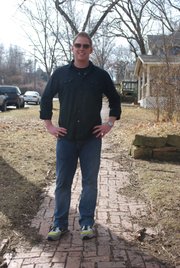 Name: James Fleming
Age: 27
Sign: Leo
Occupation: Bartender and student.
Relationship status: Single
Hometown: Overland Park, KS
Time in Lawrence: Six years.
What were you doing when you were scouted? Making my way up the hill to campus.
How would you describe your style? Casual and comfortable.
What are your favorite fashion trends? Graphic T-shirts, vintage tennis shoes, and the three P's:  Polo's, pullovers, and pearl snaps.
What are your least favorite fashion trends? Skinny jeans on guys, cut it out you look ridiculous.
What would you like to see more of in Lawrence? 24-hour restaurants.
What would you like to see less of in Lawrence? Hipsters.
Do you have any piercings/tattoos? No, I have yet to find anything I want to permanently inked into my skin.
Do you have any fashion influences? Ralph Lauren, because he has never steered me wrong.
People say I look like... I've heard lots of comparisons from Troy Aikman to Jack Del Rio (Jacksonville Jaguars Coach).
Tell us a secret: I'm a 3 handicap on the golf course, no joke.
Copyright 2018 The Lawrence Journal-World. All rights reserved. This material may not be published, broadcast, rewritten or redistributed. We strive to uphold our values for every story published.