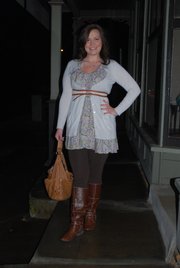 Name: Corissa Enneking
Age: 25
Sign: Aries
Occupation: Professional student and specialist at Discovery Furniture
Relationship status: Single
Hometown: Lawrence, KS
Time in Lawrence: 25 years
What were you doing when you were scouted? Walking from my sister's house to get coffee downtown.
How would you describe your style? I switch from tomboy-ish to very girlie on a daily basis. I love anything with flowers and ruffles, but I also like to wear jeans and loafers regularly. Essentially, everything revolves around my hair. If I take the time to do my hair I will usually take the time to put together a cute outfit and look like a girl for the day.
What are your favorite fashion trends? Leggings and tights — anything that gets me out of wearing pants.
What are your least favorite fashion trends? Men in skinny jeans. Everyone should wear what they want, but I prefer my men to look more ... manly.
What would you like to see more of in Lawrence? Chevelles, hole-in-the-wall diners with delicious French fries, and old people. Where are we hiding them?
What would you like to see less of in Lawrence? People who care if I'm wearing my pajamas in public! Some days you have to rock what you wore to bed. Don't judge me.
Do you have any piercings/tattoos? My ears are pierced, and I have three tattoos
Do you have any fashion influences? My sister. She has to look cool wearing something trendy for quite some time before I will even try it. She definitely got the fashionable genes.
People say I look like... Once I put my picture into a Doppleganger-thingy and it told me I look like Oprah Winfrey. You win some, you lose some.
Tell us a secret: I'm painfully gullible. Cars do not need blinker fluid, in case you were wondering.
Copyright 2018 The Lawrence Journal-World. All rights reserved. This material may not be published, broadcast, rewritten or redistributed. We strive to uphold our values for every story published.