When theater director Jere Lee Hodgin found out that the national tour of his production of "Bus Stop" for the Montana Repertory Theatre would include a stop in Lawrence he was thrilled.
After all, the play was written by Kansas native and KU alumnus William Inge, and it's set in Kansas.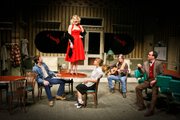 "This story of what was a small town in Kansas, a small bus stop, and it really has such such a translation into life in smal- town America everywhere, so I think it's going to translate extremely well," Hodgin says. "William Inge wrote a wonderful play."
The play will be the centerpiece of an entire day of activities celebrating Inge and his work, says Tim Van Leer, executive director of the Lied Center.
Members of the Montana Rep will work with KU graduate students on Saturday afternoon in a theater class. Jank Wright, a KU professor and former student of Inge, will share his experiences with the playwright in a pre-performance lecture at 6:30 p.m. at the Lied Center. After the show, there will be a coffee and conversation session where audience members can ask questions of the cast.
"One of the really fun things we're doing," Van Leer says, "is we've had a display case in the lobby with some materials about Inge, including a copy of his Oscar-winning script for the movie version of the play. And we are expecting to have his actual Oscar trophy by Saturday to add to the display."
All artifacts on display are owned by the university as part of the Spencer Library's collection.
These additional activities were made possible by a grant from the National Endowment for the Arts. "It's part of a national celebration of American masterpieces of the theater," Van Leer says. "It helps us tie the play together with our mission of presenting the performing arts and to utilize the arts for education."
Director Hodgin says the Montana Rep tour of the play is part of tremendous resurgence in the play's popularity nationwide, which includes rumors of a production on Broadway.
"This play ennobles everyday people from small-town America," Hodgin explains. "And that resonates today in this complicated time we're living in, when we're maybe not as confident in our leaders as we might have been at one time."
Accordingly, the itinerary of the Montana Rep's tour of the play consists entirely of small and mid-size towns and cities in the Midwest, South and Northeast. The tour includes five stops in Kansas: Hutchinson, Manhattan, Emporia, and Hays in addition to Lawrence, and two more across the border in Springfield and Maryville, Mo.
Though it's nice to have this mid-winter treat, Van Leer says, there was some fear during the recent snowstorms that if the weather patterns continued there could be a new twist on the play's plot.
"It's about a strangers stranded in a snowstorm in Kansas," he says. "If the play had been scheduled a couple of weeks ago, it might not have happened because the cast would've been stranded outside of Kansas."
Copyright 2018 The Lawrence Journal-World. All rights reserved. This material may not be published, broadcast, rewritten or redistributed. We strive to uphold our values for every story published.