Photo Gallery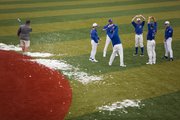 2011 Kansas baseball media day
Kansas University fifth-year senior Wally Marciel's realization was one that most pitchers make at one point or another during their careers.

When Marciel used to take the mound, simply rearing back and hurling the ball was enough to generate some pretty good results.
But after an elbow injury sidelined Marciel for nearly a year and a half, not to mention sapped him of some velocity, something clicked as he watched and learned from the bench.
"After Tommy John (surgery), it made me realize you can't just throw the ball," Marciel said. "You have to use your different pitches, you have to spot up a lot better."
After the departures of a few key relievers from last year's team, in particular lefty specialist Travis Blankenship, Marciel seemed ticketed for an increased role out of the bullpen — and rightfully so, as the sidearm dealing, left-hander went 2-1 with a 4.26 earned-run average and 37 strikeouts in 28 appearances for KU last year.
Marciel had other ideas though, instead eyeing a return to the starting rotation, where he went 8-7 in 17 starts during his freshman and sophomore seasons before his injury.
"Quite frankly, Wally has been really good," coach Ritch Price said at media day on Tuesday afternoon after announcing Marciel will begin the season as KU's Saturday starter.
KU opens its spring season Friday at 6:30 p.m. at No. 1 TCU in Fort Worth, Texas.
"And he's earned the right to start."
Attribute that to Marciel sharpening his craft. He spent the summer working on a changeup, which Price called "outstanding."
"He's throwing great," Friday night starter T.J. Walz said. "He threw great in the fall and he's thrown great in the spring. He's a different pitcher than he was his freshman year."
Marciel is committed to finishing off his career with a flourish, as he's been arriving to the practice facility around 7:30 a.m. every day for additional workouts.
"My arm feels good," Marciel said. "It feels lively and ready to go again."
Copyright 2018 The Lawrence Journal-World. All rights reserved. This material may not be published, broadcast, rewritten or redistributed. We strive to uphold our values for every story published.