Photo Gallery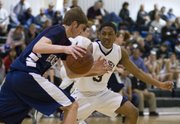 Bishop Seabury boys vs. Heritage
The seniors on the Seabury boys basketball team shined in the Seahawks' 62-45 victory against Heritage Christian on Senior Night Tuesday.
Josh McDermott was 11-for-13 from the field for 24 points, and Reed Grabill was 8-for-10 from the field for 22 points.
Johnny McDermott added four points and Skylar Malone and Zach Silvers had two. Malone and Johnny McDermott were lauded by Seabury coach Ashley Battles for their passing, which made things easier for Grabill and Josh McDermott.
Seabury (10-5) travels to Topeka Cair Paravel on Friday.
Box score
Heritage 4 11 12 18 — 45
Seabury 9 22 15 16 — 62
Seabury — Khadre Lane 8, Reed Grabill 22, Johnny McDermott 4, Josh McDermott 24, Skylar Malone 2, Zack Silvers 2.
Copyright 2018 The Lawrence Journal-World. All rights reserved. This material may not be published, broadcast, rewritten or redistributed. We strive to uphold our values for every story published.