Photo Gallery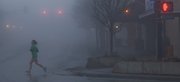 Dense fog covers Lawrence
The National Weather Service issued a dense fog advisory for Douglas County Wednesday, Feb. 16, 2011. Thick fog dropped visibility to less than a quarter of a mile and caused delays for commuters. If you have a photo of the fog to share, send it to editor@ljworld.com.
The National Weather Service has canceled a dense fog advisory for most of northeast Kansas.
Visibility was reduced to less than a quarter of a mile or worse in many locations until the fog began to lift late Wednesday. Conditions will continue to improve as winds increase from the south.
Counties affected by the advisory included:
Anderson
Brown
Coffey
Douglas
Dickinson
Franklin
Geary
Jackson
Jefferson
Lyon
Marshall
Morris
Nemaha
Osage
Pottawatomie
Riley
Shawnee
Wabaunsee
Copyright 2017 The Lawrence Journal-World. All rights reserved. This material may not be published, broadcast, rewritten or redistributed. We strive to uphold our values for every story published.