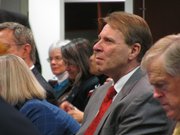 Topeka — Gov. Sam Brownback's budget director Steve Anderson on Wednesday declined to tell the Kansas Board of Regents his personal opinion on higher education funding.
"Opinions are like belly buttons," Anderson said. "Everyone's got one. The only important belly button to me right now is the governor's."
In his first face-to-face with the regents, Anderson urged board members to meet with him and Brownback and present ideas on how to improve higher education in Kansas.
"The governor's door is open. He is there to talk to people. When good ideas come forward, we'll jump on them," Anderson said.
Brownback's choice of Anderson as state budget director raised eyebrows because of Anderson's previous work with Americans for Prosperity, an organization founded by billionaire David Koch, which espouses cuts in taxes, regulations and the size of government.
In 2009, Anderson and the Kansas chapter of Americans for Prosperity proposed a "model budget" for Kansas. In that document, AFP said the biggest problem with the budget is "unconstrained growth of state spending."
The group called for a cut in the state income tax; cuts in state spending, including Medicaid; and a voucher program where tax dollars would be used to pay tuition for students to attend private schools. The plan also called for a program to allow tax credits for donations to scholarship funds for low-income children to attend private schools.
The plan also recommended higher tuition at public universities and schools. "There is no reason to tax the majority in the state who do not have children attending a state institution in order to subsidize those who do, especially when there is evidence it is the more affluent citizens who are more likely to have children enrolled in higher education," the document said.
But when asked Wednesday by Regents Chairman Gary Sherrer about his philosophy about the government's role in higher education, Anderson sidestepped the issue.
He told the regents that current state spending practices were unsustainable. And Anderson said a recent budget problem over special education funding may be worse than what has been reported.
After two years of budget cuts, and imposition of a 1-cent state sale tax increase, the state still faces an estimated $492 million budget deficit.
That hole may have deepened after federal education officials recently told the state that it needs to increase its share of special education funding to meet "maintenance of effort" requirements under federal law.
Officials have said the state needs to come up with $25 million or risk losing a similar amount in federal funds, but Anderson said the required amount of state spending could be as high as $61 million.
Anderson said because of increased demands for education, Medicaid and pension funding, the state is looking at a revenue shortfall of more than $1 billion in five years.
He said that is why it is necessary to control spending now. "This is not an acceptable position to get to," he said. "This is a train wreck that we can avoid if we do the right thing."
Higher education has been cut approximately $100 million over the past two years as state revenues tanked during the recession.
Brownback's proposed budget for the next fiscal year keeps higher ed funding at the current level despite the projected revenue shortfalls elsewhere in the budget.
But a budget projection that Anderson showed the regents had higher education gaining only slightly in funding over the next few years.
Sherrer asked Anderson how could the state advance with such restrictions on higher education resources.
Anderson said the administration would welcome suggestions from stakeholders on how to confront the revenue problems. And he vowed that he wasn't going to surprise people.
"Budget by ambush is not going to happen in this administration," he said.
Copyright 2018 The Lawrence Journal-World. All rights reserved. This material may not be published, broadcast, rewritten or redistributed. We strive to uphold our values for every story published.