Farm, Inc.: about this series
"Farm, Inc." is a multi-part series exploring the hurdles and joys of trying to be a full-time farmer in and around Lawrence. Find all stories in this series.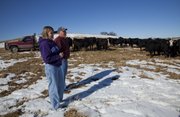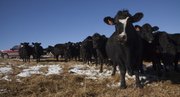 In recent years, the face of conventional cattle farming has been less about the farmer and more about the feed lot.
Popular documentaries like "Food, Inc." and books like "The Omnivore's Dilemma" have thrown conventional meat production into the spotlight, taking care to highlight the pollution, disease and germs associated with huge cattle operations.
But those in the business say that what's missing from this picture are small, grain-finishing cattle operations. The kind of family-run businesses that are the hallmark of the American dream.
Farms like Rocking H Ranch in Berryton.
Clearing things up
A three-generation operation west of Lawrence, the farm manages between 800 and 1,000 cattle at any one time, selling them by the semi-truck load to big guns in the food industry like Tyson, as well as to local customers.
The couple behind Rocking H, Mark and Brenna Wulfkuhle, are more than aware of how conventional meat production has been perceived of late.
"I think there are a lot of misconceptions and untruths out there," says Mark Wulfkuhle from an office building on his land, a cluster of rolling hills south of Stull that doesn't look anything like the massive feedlots so discussed in foodie culture. The office is in a big metal building, but it's a surprisingly homey place, with John Deere memorabilia on the walls and his and hers desks for Mark and Brenna.
Dressed in jeans and sweatshirts, they smile and settle into addressing the biggest knock they hear on what they do for a living — waste. Critics say that pound-per-pound cattle operations use up more water and more land than vegetable farming and hurt a food system struggling to find a way to feed a booming world population at a reasonable price.
The Wulfkuhles have heard the logic, but the angles don't seem to fit when applied to the numbers they work with each day.
"We manage about 3,500 acres. Of that 3,500 acres, less than 1,500 of it is farmable or tillable," says Mark Wulfkuhle, who adds that his cows get their water from a hand-dug well and stock ponds. "There's a lot of talk about how we're wasting this ground putting cattle on it, but it had buffalo on it before we were here, and it really doesn't have any other real use, quite frankly."
Another charge that doesn't seem to square with them? The use of antibiotics in cattle. The Wulfkuhles do use antibiotics but are careful to acknowledge it's not as if they're running around the grounds with syringes.
"It's no different than how you would take care of your child. We're not going to put anything in there that's detrimental to those cattle, we're going to vaccinate them so that they don't get sick," Brenna Wulfkuhle says. "But we're not just going to give them antibiotics to give them antibiotics, but we're not going to let them suffer, either."
Growing up with the herd
On Rocking H Ranch, the cows are as much a part of the family as they are the scenery. The ranch has between 400 and 500 mother cows, and just as many calves, born over the course of spring and fall calving seasons. Interspersed within the herd are 4-H cattle for the couple's three daughters.
The girls' lives aren't that far off from either of their parents' childhoods. Brenna Wulfkuhle grew up on a dairy farm south of Lawrence. Meanwhile, Mark's grandfather began the family's cattle business, and he grew up on the farm where he now lives.
After college, Mark came back to the farm with Brenna and worked for his folks until 1998. That year, his father died, and Mark took over the business, incorporating the operation and making his mother one of the majority shareholders.
That change resulted in a major shift in the operation: to the calf and cow model the Wulfkuhles now use. Before, Rocking H had been buying young calves from other producers and then raising them to market weight on the farm.
The Wulfkuhles decided that those margins were a bit too slim and determined they'd have a better chance of keeping income steady for their growing family while keeping their operation small if they began raising cattle from birth. Mark explains that to continue the "value added" operation, Rocking H would've had to balloon its cattle population just to afford the overhead.
"There's people that are really smart that can go out and figure out if I go out and buy a calf for X amount of dollars, and put X amount of dollars in feed in it, I only need to make $20, but I'd have to do 20,000 head to do that. Well, we didn't have the money, I mean, we had the capacity to do 2,000 to 3,000 head and that was it," he says. "So, we were looking at maybe making $50,000, which, as you can guess our overhead, it's pretty high and it doesn't cover a lot of overhead if you start only trying to make $50,000, for instance."
He notes that these sorts of numbers are drastically different from when he was a child, when the business was more profitable per cow.
"When I was a kid, you could feed a small group of cows or a small group of animals and make enough money that you could pay your bills," he says. "Now, there's very slim margins in it. So you have to be either extremely large or have a niche."
Rocking H's niche is in age and source verification. Certain markets — Japan and South Korea, for instance — will only buy cattle that have been monitored from birth until 24 months of age. By paying for verification, the Wulfkuhles create a better market for their meat.
"It's mainly because of the foot and mouth disease and BSE (bovine spongiform encephalopathy)," Brenna Wulfkuhle says. "And, supposedly, they've never found it in an animal younger than 24 months of age. So, they feel like if they're younger than that, they're (safer)."
The Wulfkuhles know that even this won't satisfy conventional farming's critics. But they hope that their operation can help contribute to an understanding of the realities of small operations largely lost in the folds of the worldwide food system.
"This is our livelihood," Brenna Wulfkuhle says. "I mean, we're good caretakers. If we don't take care of them, the impact's huge on us, because our livelihood depends on us producing a good quality product. And if we're not taking care of it and managing it properly, it's going to hit our bottom line pretty hard in the end."
Copyright 2018 The Lawrence Journal-World. All rights reserved. This material may not be published, broadcast, rewritten or redistributed. We strive to uphold our values for every story published.