Get a head start on this spring's hair and beauty trends. By the time warm weather rolls around, you'll be a seasoned pro. Read on for the latest, in-style trends hot off the runways, and don't be afraid to try them out now.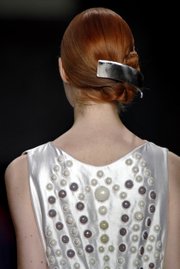 Sleek, Sophisticated:
Although many stylists predict a shift back toward the center part in 2011, some runway hairstyles would suggest the opposite. For a crisp, classic look, comb your hair into a deep side part and secure it in back in a low, basic ponytail. Too boring? Chignons and neck-nestled buns are also a huge hair trend this spring. If you want to use a clip or other hair accessory to pin back your hair, check out the hairstyles at Carolina Herrera Spring 2011, where multiple clips were utilized for each hairstyle.
Volume:
Whether you style your hair up or down, this spring add some extra bounce to your hair. Many models walked the runway flaunting over-the-top, voluminous hairstyles. Either tease your hair and wear it down, or take the volume upward, fixing your locks into an up-do or sleeked back pompadour. See Diesel Black Gold Spring 2011 for inspiration.
Bed-Head:
The easiest of all spring hair trends, natural, tousled locks of all lengths are a low-maintenance, in-style option as well. If your hair doesn't air-dry to your liking, try twisting up damp locks and securing them with bobby-pins. When your hair is fully dried, unwrap each twist and run your fingers through to loosen the waves and achieve a natural, wavy texture. Also, this look can be interpreted in a loose up-do. If you like wearing your hair up, try my new favorite hair accessory — a hair screw. They are small, plated wires that resemble, well, screws. To use the screw simply gather your hair and pull it up into a loose bun of sorts. Then, holding your hair in place with one hand, use your free hand to screw the hair screw into the middle of the bun. Trust me, you will be surprised at how secure it keeps your hair up!
Hair Flair:
To jazz up any of the hair trends listed above, utilize a hair accessory. Use a colorful, patterned scarf as a headband for a more casual, bohemian hairstyle, or tone-down a messy ponytail with the addition of one or more black, stretchy headbands.
Check out looks from Spring 2011 by Cynthia Rowley for other interesting styling ideas, where models sported metallic strips of hair color on the runway.
Copyright 2018 The Lawrence Journal-World. All rights reserved. This material may not be published, broadcast, rewritten or redistributed. We strive to uphold our values for every story published.