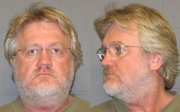 A federal judge has ordered a Lawrence man who owns MagnaGro International to spend nine months in prison for violating his probation originally granted in 2009.
U.S. District Judge Julie Robinson made the ruling late Friday after federal prosecutors spent the day in court arguing Raymond Sawyer, 59, had not complied with his probation terms based on his conduct, including current charges he faces in Lawrence Municipal Court.
Federal prosecutors have said Sawyer was accused of assaulting the city's code enforcement manager, Brian Jimenez, last October during a confrontation and in December, grabbing and pushing Rowena Hillebert, the sister of an employee who died in an industrial accident at his business in April 2010.
Sawyer faces municipal court charges in two pending cases. He's accused of occupying his business after city inspectors condemned it and for running with clenched fists toward Jimenez during a confrontation. He was not charged for the confrontation with Hillebert, who cleans MagnaGro's business office, 811 E. 23rd St.
Sawyer was on probation after he pleaded guilty in federal court in 2009 to discharging waste from his fertilizer operation at 600 E. 22nd St. into the city's sewer system.
Defense attorney Chris Joseph said Robinson decided to have Sawyer serve prison time as punishment instead of a probation.
"His personality is such that the judge did not believe that he could succeed on probation," Joseph said. "I don't know that I agree with that, but that's the judge's decision. She has the ability to make that."
But Joseph said once Sawyer finishes his prison term he won't be required to have any post-release supervision in the federal case.
The Lawrence-based agricultural fertilizer company has faced ire for years from federal and city officials.
Federal prosecutors had argued in court documents that Sawyer had not only violated his probation by facing the municipal court charges but that he had exhibited a pattern of "intimidation" of employees and others.
In April 2010, two employees, Roy Hillebert, 51, and Brandon Price, 25, died after they were overcome by fumes from a material being mixed at the 22nd Street site. City officials later declared the site "unfit for human occupancy" and boarded the doors.
Last October, the U.S. Environmental Protection Agency issued a civil complaint and compliance order against MagnaGro for failing to tell the agency what hazardous wastes were on the site.
Copyright 2018 The Lawrence Journal-World. All rights reserved. This material may not be published, broadcast, rewritten or redistributed. We strive to uphold our values for every story published.