Photo Gallery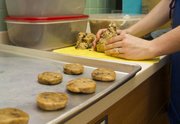 New business delivers late-night treats
One idea, three friends and six cookies.
That's the foundation of new late-night delivery company Lucky You Bakery.
The business has been up and running for three weeks, satisfying Lawrence's craving for sweets one half- or baker's dozen at a time.
The idea
Jack Rafferty has seen first-hand the effect late-night dessert delivery can have on a city. While attending school in Boulder, Colo., Rafferty watched as the town's own service made what he called "a killing" delivering sweets before and after bars closed on the weekends.
The Shawnee native and current KU senior quickly noticed the similarities between the communities in Boulder and Lawrence and set out to see if the same kind of business would have the same effect.
Starting with that idea, Rafferty began putting the pieces in place to create a company of his own.
The talent
Baking has almost always been a part of Bailey Olsen's life. The KU senior received baking sheets as presents when she was a child and hasn't looked back, honing her skills ever since. As a college freshman, Olsen earned the nickname of "mom" for her ability and willingness to cook and bake for others.
"I know my way around the kitchen," she said.
So when it came down to finding a baker for Lucky You Bakery, Rafferty didn't think twice about asking Olsen, whom he had met through church.
Since joining the company as part-owner, Olsen has logged about 300 hours just in perfecting the products she sells. Original recipes for chocolate chip, sugar, oatmeal raisin, snickerdoodle, peanut butter and double fudge cookies were the end result.
"I hate cookies by now," she said, laughing.
The business
While the product was being perfected, the business base needed to be established. Will McCullough, another of Rafferty's friends, stepped in as the business mind, handling all the company's accounting and tax requirements. With an effective team in place, the three began working to get their fledgling business up and running.
One main concern was finding a kitchen that would meet the company's needs. Rafferty said the three were half expecting to work out of someone's basement but were pleasantly surprised when they found a small corporate kitchen near campus to rent.
"It was a gift from God," Olsen said.
There were also legal hurdles that the business had to clear before it could open to the community. Lucky You Bakery had to apply for and obtain a food permit from the state as well as get its kitchen inspected. McCullough and Rafferty paid the fees out of pocket to help keep overhead costs as low as possible. Baby step by baby step, they inched toward their official opening.
Up and running
With a working website, social media accounts, and after numerous trial delivery runs, Lucky You Bakery finally opened for business on Jan. 28. The bakery delivers from 7 p.m. until 1 a.m. Thursdays and from 7 p.m. until 2 a.m. Fridays and Saturdays.
Olsen and Rafferty lament they still have homework to do if they want to graduate this year. On their four days off, the trio of owners have time to reflect on what they can do differently.
"With each week we're getting smoother and smoother," Rafferty said. "And better and better."
Sales in the first three weeks of business have steadily increased, with enough money made to cover nearly all the bakery's monthly bills. And with increasing sales, Rafferty said he hopes the bakery can eventually start giving back to the community. He wants a percentage of every sale to benefit local organizations.
"We are just really blessed with a really good community here," Rafferty said.
And while many business ventures focus mainly on the bottom line, Rafferty said Lucky You Bakery also wants to keep community and friendship at the forefront.
"If we lose our friendships and this bakery thrives, that's a failure to us," he said. "We'd rather grow together in the community and have the bakery do OK."
Coming up next
Rafferty and Olsen, who were working the past weekend, said they would like to see the business expand to more than what it is now. They said they'd like to add brownies to the menu and eventually have a cart downtown and a storefront for customers to visit. Online ordering is also somewhere on the horizon.
For now, McCullough, Rafferty and Olsen want to get better at what they're already doing.
"It's making sure our product is good," Rafferty said. "It's fast delivery times and really wowing the customer."
Prices for the cookies are $6 for six, of any combination, or $12 for 13. Coffee and white or chocolate milk can also be ordered. To place an order, customers can call 865-1466.
Copyright 2018 The Lawrence Journal-World. All rights reserved. This material may not be published, broadcast, rewritten or redistributed. We strive to uphold our values for every story published.