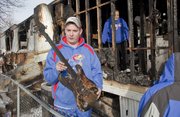 Benefit fund
The Cordray/Travelbee Benefit Fund has been established at Douglas County Bank to collect donations for Jason Dye, Tracy Cordray and Cordray's four children.
Donations may be made at any Douglas County Bank location. Checks also may be made out to the fund and mailed to the bank at 300 W. Ninth St., Lawrence, KS 66044-0429.
Jason Dye faced a handgun at his head a few months ago, when robbed at work.
Then he lost his next job, a week before Christmas, and his fiancee was in the hospital for a week with pneumonia.
Now he's picking through rubble after a fire Tuesday destroyed his fiancee's trailer home, incinerating all but a drawer filled with kids' underwear and the contents of a jewelry box, including $39 cash given to his soon-to-be 11-year-old stepdaughter for her birthday.
So why is this guy smiling?
"Everyone's OK," he said after pulling out a scorched Fender Stratocaster guitar he'd had since age 16. The twang from a remaining string is far from melodic. "Everyone's OK. And I'm telling everyone, 'We're all getting a fresh new chance.'"
That new chance begins this weekend. Dye and his fiancee, Tracy Cordray, are moving into Heatherwood Apartments with Cordray's four children through a previous relationship: Amethyst, Amber, Jismon and Jaison Travelbee.
Their belongings may be gone, but the generosity of friends, family and community organizations, schools and businesses have helped them move on.
No matter how dark things may appear — their former home and belongings charred, their employment picture bleak, their financial future hinging on an expected tax refund — the family won't be staying at Holiday Inn Lawrence anymore now that they've just secured a 12-month lease for a three-bedroom, two-bathroom apartment.
"That's such a relief: To have a place where these kids can stay," Dye said. "It's such a relief. I'm the happiest guy on the planet."
The fire Tuesday evening engulfed Cordray's trailer home at Gaslight Village Mobile Home Park, 1900 W. 31st, soon after Dye attempted to restore water flow through frozen pipes. Authorities cited "improper use of an open flame device" as the cause of the blaze, although Dye says he merely had been trying to knock ice away from the pipes below the trailer when a spark, perhaps, ignited insulation.
He'd spent the next five minutes or so pulling out pieces of the "glowing" insulation, Dye said, and he's still self-treating burns on the knuckles of his right hand.
Soap. Water. Ointment.
"It's OK," he said.
Before long, the trailer — the one he and Cordray had been 10 months away from paying off — was destroyed. Neither she nor the previous owner had insurance, leaving a loss estimated at $21,000, unable to be recovered.
"For the first time in my life, I'd felt like I had some security," Cordray said. "Now it's gone."
Still, the family moves on. The children have replacement book bags and supplies, thanks to counselors at Broken Arrow School and Lawrence High School. The Lawrence school district helped with clothing and other necessities. The Red Cross financed shelter at the hotel, and provided money for some necessities. The list goes on.
Dye can't thank people enough. The family has a benefit fund set up at Douglas County Bank, and the goal is to thank each donor individually.
"I've had to start over before in my life," said Dye, who, at age 25, already has driven trucks, worked fast food and loaded trailers for a living. "This is a chance for us to do that. You can reinvent yourself."
Copyright 2018 The Lawrence Journal-World. All rights reserved. This material may not be published, broadcast, rewritten or redistributed. We strive to uphold our values for every story published.