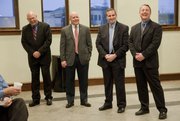 Neighborhood issues and the future of the Lawrence Police Department were topics on the forefront of Thursday's public open house with the four candidates seeking to be the city's next police chief.
And the candidates — Lawrence's interim chief and police administrators from Overland Park, Olathe and Lincoln, Neb. — tried to play up their strengths to the dozens of people at the Carnegie Building, 200 W. Ninth St.
The four finalists are Brian Jackson, a Lincoln, Neb., police captain; Mark Kessler, an Overland Park deputy chief; Tarik Khatib, Lawrence's interim chief; and Clark Morrow, an Olathe police captain.
"It says a lot about the city of Lawrence that we've got people like this who are interested," said Michael Orozco, a regional president for US Bank who attended Thursday's open house along with about 60 people.
City manager David Corliss has been searching for a new chief since Ron Olin, who led the department since 1987, retired in September and became director of security and internal controls for Kansas Athletics Inc.
Corliss said the candidates spent most of Thursday interviewing with a panel made up of members of the public plus city and police department employees. They also interviewed with Corliss and Diane Stoddard, an assistant city manager, and met with other elected and law enforcement officials.
City officials also graded each candidate in a mock media exercise during the day.
At Thursday's open house, the candidates mostly participated in one-on-one conversations with members of the public and law enforcement officers who attended.
Some residents wanted to talk about specific issues.
"I'm concerned about ensuring that domestic violence services are provided with respectful and adequate responses to domestic violence victims," said Sarah Terwelp, executive director of The Willow Domestic Violence Center.
Some just wanted to meet the candidates and seemed impressed with each one.
"They were all very professional, and they all have the experience," Orozco said.
Others left with their minds made up.
Steven Butler, a retired Army colonel, said he didn't see the need for Corliss to bring in someone from outside. He said he was pleased with how the Lawrence department has operated and supported Khatib getting the permanent position.
"He's a local man, with local experience, local connections and knowledge of the streets," Butler said.
Khatib has spent his entire career in Lawrence, starting as an officer more than 18 years ago, and said he knows the department from the "inside-out."
"At the same time, I've kept an open mind. I've kept myself open to outside ideas," Khatib said. "I've sought training, and I've sought experiences, which hopefully has allowed me to bring new ideas to the table."
Jackson, who oversees a joint city-county drug task force in Nebraska, said he has found ways to be creative in conducting police work. He also sees similarities between Lincoln and Lawrence because both are home to major state universities.
"I have a strong work ethic that has gotten me to where I am today," he said. "And I believe that strength is being part of a professional police department that is very innovative."
Kessler said he would rely on his experience after working more than a decade as a deputy chief in Overland Park.
"I don't know that anybody can come in and say 'I'm going to know it all' or 'I know exactly what Lawrence needs,'" he said. "I hope I bring good leadership to the table, and I would spend a lot of time identifying needs of the police department and how it relates to the community, the citizens, and work with members of the department to bring that about."
Morrow said members of the public mostly wanted to know his views on how the department should work with neighborhoods and the community.
"For me, I'm a people person, and in this job I think that goes a long way," he said. "I think common sense goes a long way as well."
Corliss, who has authority to make the selection, said he expected to make a decision before the end of the month.
Copyright 2018 The Lawrence Journal-World. All rights reserved. This material may not be published, broadcast, rewritten or redistributed. We strive to uphold our values for every story published.