Photo Gallery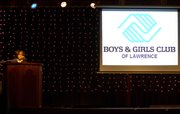 Boys and Girls Club of Lawrence — Youth of the Year
As Aspen McDaniel has heard, it takes a village to raise a child.
The Boys and Girls Club of Lawrence is part of her village.
The feeling among other club members was the same Thursday night during the annual Youth of the Year competition at Abe and Jake's Landing, 8 E. Sixth St.
The crowd that gathered for the dinner and public speaking contest consisted of club members from various parts of the community, their parents and club leaders.
Janet Bremby, executive director for the local club, said this year's four finalists made a great group.
"We've got some wonderful kids," she said. "I'm pretty excited about it."
And the message from those competing, which was supposed to be about what the club has meant to them, was one of appreciation and respect. All four speakers, who've spent anywhere from five to 10 years in the program, talked about their desire to give back to the community that gave them so much.
In a word, the Boys and Girls Club has become their family.
"I grew up with them," Free State High School sophomore McDaniel said. "From Pinckney all the way up to West to Free State now. This is crazy. It makes me want to cry, but I'm happy at the same time."
And while KU football coach Turner Gill and former Jayhawk and Boys and Girls Club volunteer Darrell Stuckey highlighted the guest speakers, it was really all about the kids.
"It's played a huge role in my life," West Junior High School freshman Innocent Anavberokhai said. "I'd bet it's built real character in all these candidates. It's been a huge blessing to have Boys and Girls Club be part of our lives."
The other two finalists, Darius Vann, a freshman at West, and Ajala Anavberokhai, FSHS sophomore, also gave their speeches Thursday evening. The event was the culmination of a lengthy process that included essay writing, reference letters, public speaking and an extensive interview process.
Each contestant said the club has helped them grow in one way or another. Vann said it's helped him gain confidence and friends. Ajala summed up her time with the club in a simple way.
"It means family. It means a safe place," she said. "It literally is my childhood. It's memories."
McDaniel, Thursday night's winner, will compete next in the state competition in March.
Copyright 2018 The Lawrence Journal-World. All rights reserved. This material may not be published, broadcast, rewritten or redistributed. We strive to uphold our values for every story published.