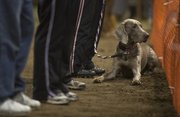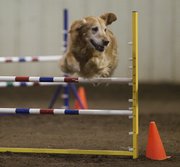 On the street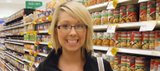 Can it be something my dog already does? Because then it'd be smiling.
Watch the dogs
This event is open to the public and free. The event will run from 8 a.m. to about 4 p.m. Friday through Sunday.
Carol Easterley drove more than four hours to Lawrence for a long weekend on Wednesday. She'll spend most of her time in a large dirt-floored building filled with what looks like playground equipment at the Douglas County Fairgrounds. She's not alone, though. She will be there with hundreds of other people, and just as many dogs.
Easterley, who traveled from Belleville, Ill., brought Addie, her 4-year-old Weimaraner, to Lawrence for an agility competition sponsored by Triune Agility Club of Lawrence. The agility event features dogs running, jumping, going over seesaws and running through tunnels. Dogs will run in three different events — fast, standard and jumps — about 660 times per day Friday through Sunday.
Easterley got into dog agility when her daughter moved away and she got a Weimaraner. She took Addie to conformation dog shows, the kind people watch on TV where dogs stand perfectly still and must fit certain standards. Addie was intimidated at the show and put her tail down, which didn't fit her breed's standards. So a friend suggested agility training, and it took off from there.
"I started the agility and just fell in love with it," she said. "We're just having a ball. It's so much fun."
Addie is ranked ninth in the country, but it hasn't come without practice. The dogs know where to run in a course based on the body language of their trainer, who is running on the course with them. The slight drop of a shoulder can mean a dog taking the wrong jump.
"Standing out here, it looks easy, but if it were easy, we wouldn't all be doing it," Easterley said.
Trainer and dog get to know each other very well with the ultimate goal of completing a course with no mistakes, generally in about 30 seconds.
"It's all about the two of us together, the relationship you build with your dog and the camaraderie," Easterley said.
Easterley sometimes makes the drive to Lawrence just to train with Joan Meyer, who owns Triune Agility Club. Meyer has been training dogs in agility since 1992, but said she really started training dogs when she was 12 and wasn't allowed to have a dog.
"I started training the neighbor's dogs," Meyer said. "My first one was a Saint Bernard."
Many of the dogs at the event are rescue dogs, like Gretchen, the 6-year-old mini schnauzer who belongs to Sue Phillips. Phillips, of Columbia, Ill., trains her dog with Easterley and started after needing an outlet for Gretchen.
"She had a lot of fear aggression," she said. "Agility gave her life."
The trainers all make friends, and the contests become a social event.
"It's like anything else like golf or fishing, and you get hooked on it," Easterley said. "You meet a tremendous amount of wonderful people."
Copyright 2018 The Lawrence Journal-World. All rights reserved. This material may not be published, broadcast, rewritten or redistributed. We strive to uphold our values for every story published.