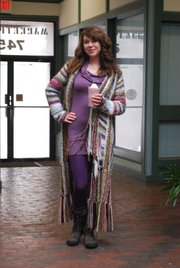 Name: Copper Coyote Ramberg
Age: 19
Sign: Gemini
Occupation: Barista at the Mirth Cafe
Hometown: Lawrence, Kansas
Time in Lawrence: 19 years
What were you doing when you were scouted? Just getting to the cafe for work.
How would you describe your style? No holds barred. I wear whatever I feel works.
What are your current favorite fashion trends? Feathered and gemstone accessories, and big boots with short skirts.
What are your least favorite fashion trends? The hungover look.
What would you like to see more of in Lawrence? Lounge style music venues, places to get high quality food and good beverages (all rolled into one would be superb).
What would you like to see less of in Lawrence? …I like Lawrence the way it is — I like its versatility.
Do you have any fashion influences? Yuna and Rikku. 
Do you have any piercings or tattoos? My ears.
People say I look like… Kris Losure
Tell us a Secret: I always wanted to be a cheerleader in High School, even though I never even attended a game. I really wanted one of their outfits. 
Copyright 2018 The Lawrence Journal-World. All rights reserved. This material may not be published, broadcast, rewritten or redistributed. We strive to uphold our values for every story published.