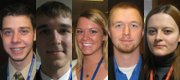 Organizers for the Kansas University Career Center were pleased to see a more diverse and bigger group of employers for the university's annual career fair on Wednesday.
Overall, 88 companies signed up for the event, up from a figure in the high 70s last year, organizers said. A few manufacturing companies came back this year, along with members of the financial, telecommunications and retail sectors.
Though the weather forced a few companies to cancel, that didn't stop a horde of job-seeking Jayhawks, who converged on the Kansas Union to meet and greet their potential employers.
Here are a few of their reactions.
Eric Degenhardt, senior from Great Bend:
I've talked to the FDIC and the Federal Reserve in Kansas City. Both of them seem to be interested in hiring, although the FDIC is in a hiring freeze for right now, so they have to figure out a way to hire people."
Libby Sauerland, senior from Chicago:
I'm interested in internships in anything involving marketing, sales and media. ... So far, I've talked with two companies. One of them was Kraft Foods, and I've already got a follow-up interview tomorrow."
Marla Schleuder, graduate student from Eudora:
I'm an architecture student. ... This isn't an architecture fair, but I figured I'd come and try to find something in case the architecture thing doesn't pan out."
Jordan Leboyer, senior from Chicago:
A lot of companies want people for sales and cold calling. I'm not necessarily looking for that. ... It's been pretty nice, and hopefully I'll be getting a call back sometime soon."
Robert Sharp, senior from Victoria, Texas:
I've talked to a few people. They've been nice. ... This is the first step for me. Fingers crossed, I'd really kind of like to be an actuary."
Copyright 2017 The Lawrence Journal-World. All rights reserved. This material may not be published, broadcast, rewritten or redistributed. We strive to uphold our values for every story published.