Overland Park — As far as defensive performances go, Tuesday night certainly wasn't the Free State High boys basketball team's best of the season.
Photo Gallery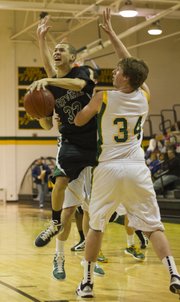 Free State boys vs. Shawnee Mission South
On offense, though? The Firebirds couldn't miss.
Bolstered by a 62-percent night from the floor, the Firebirds downed a hot-shooting Shawnee Mission South team, 72-65, on Tuesday night at South.
"It's just good to see how one team can make a lot of shots and we can come back and make just as many," senior Evan Manning said of the Raiders, who made 49 percent of their shots.
Whenever Manning, who tallied 15 points, six assists, four rebounds and five steals, wasn't dialed in from the perimeter, it seemed like someone else always was.
"When we move the ball and don't let it get sticky, we really get it side to side and attack once we reverse it a time or two, we're a pretty good offensive team," coach Chuck Law said.
The Firebirds trailed, 13-12, after a foul-laden first quarter until senior Eric Watson took over to begin the second.
Watson scored 11 of his 24 points in the quarter, including the first three baskets of the period, which boosted the Firebirds and sent them to the half with a 34-26 lead.
Despite being slowed up a bit by the aggressive FSHS defense, the Raiders made 8 of 13 shots in the first half, mainly by using shot fakes and driving the lane before kicking it out to open shooters on the perimeter.
Dylan Christie led SMS with 16 points and was one of five Raiders to knock down a three-pointer.
The Raiders, still locked in after the intermission, capitalized off of some sloppy Firebird turnovers and trimmed the lead down to 42-39 midway through the third.
"It just came out of nowhere really," Manning said. "We weren't expecting it. They threw the first punch in the second half and usually we do that."
It's not as if Manning and the Firebirds were without an answer, though.
Manning hit a three to end the third quarter run, and fellow senior Alec Heline — who chipped in with 16 points, six assists and three steals — started a 9-2 FSHS run with a three-pointer to open the fourth quarter
It wasn't just offense either, as Law — always adamant about discipline and focus on defense — pointed out.
"When we needed to get some stops there in critical moments of the fourth quarter we were able to do so," Law said.
By the time the Raiders resumed hitting shots, the Firebirds had regained a double-digit advantage.
Georgi Funtarov scored seven of his 12 points in the final quarter, and Watson added seven more of his own to put away SMS, who still didn't stop hitting shots until the buzzer sounded.
"That can go either way any night," Manning said. "We have a ton of guys who make plays every night. That's what's great about this team, we know our strengths and weaknesses and we use it to our advantage."
Box score
Free State 72, Shawnee Mission South 65
FREE STATE (72)
Brett Frantz 1-2 0-0 3, Austin Hoag 1-2 0-0 2, Eric Watson 11-13 2-5 24, Alec Heline 6-12 2-3 16, Evan Manning 4-6 3-4 15, Georgi Funtarov 4-5 4-6 12, Shawn Knighton 0-1 0-0 0, Tyler Self 0-0 0-0 0, Cameron Dabney 0-0 0-0 0. Totals: 27-43 11-18 72.
SM SOUTH (65)
Nick Weber 1-3 2-2 4, Jake Reid 6-11 1-3 15, Doug Brown 0-0 0-0 0, Tim Rodden 2-6 4-6 10, Dylan Christie 7-13 1-2 16, Eric Weber 3-7 1-2 9, Karlton Hodoh 3-5 2-4 9, Colson Bayles 0-0 0-0 0. Totals: 22-45 11-19 65.
FSHS 12 22 13 25 — 72
SMS 13 13 18 21 — 65
Three-point goals: Free State 7-15 (Manning 4, Heline 2, Frantz); SM South 8-21 (Reid 2, Rodden 2, Weber 2, Christie, Hodoh). Fouled out: Free State — Frantz, Knighton. Shooting: Free State 27-43 (62.7 percent); SM South 22-45 (48.8 percent). Turnovers: Free State 15, SM South 15.
Copyright 2018 The Lawrence Journal-World. All rights reserved. This material may not be published, broadcast, rewritten or redistributed. We strive to uphold our values for every story published.