Photo Gallery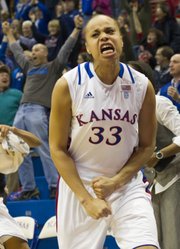 KU women vs. Iowa State
Related document

KU-ISU women's box score ( .PDF )
Kansas University sophomore Angel Goodrich has heard KU women's basketball coach Bonnie Henrickson spit out just about every bit of basketball terminology imaginable during her time in Lawrence.
Wednesday, with the game on the line and the Jayhawks out of timeouts and trailing Iowa State by one, Goodrich heard one that hadn't come across her ears before. The result, a bucket by sophomore forward Carolyn Davis with 2.7 seconds remaining, gave Kansas its first victory over a ranked opponent this year, as the Jayhawks topped the 22nd-ranked Cyclones, 86-85, in overtime.
"Just throw it to her. That's all we were running," Henrickson said of the play-call on the game-winning basket. "I was right behind Angel telling her, 'Just throw it to her.'"
Goodrich did, and the Jayhawks (16-8 overall, 3-7 Big 12) won for the second time in the last three games.
"That is really as simple as it can get," said Goodrich, whose 15 assists were the most ever by a female in Allen Fieldhouse and a new career high. "We knew that they had smaller posts in because their two posts fouled out, and even if (Davis) couldn't make the shot, she could draw the foul."
That the Jayhawks even needed overtime to begin with was almost enough to complete the meltdown. KU led by as many as 15 in the first half and still led by 10 with five minutes to play in regulation. That's when Iowa State got hot, capitalizing on several trips to the free-throw line and some timely three-pointers, including one from Kelsey Bolte with 35 seconds to play that tied the game at 78 and sent it to overtime.
"No lead's ever safe," Henrickson said. "Not when they shoot it that quick."
Bolte, who had 17 points in the second half (26 for the game), was by far the most dangerous weapon for the Cyclones (16-7, 4-5) in the second half. But it was what she couldn't do as much as what she did that decided this one.
With KU trailing, 85-84, with 19.3 seconds to play, Davis missed two contested looks inside and then was tied up, with the possession arrow favoring ISU. At that point, the Jayhawks were in scramble mode.
"First, your goal is to get a five-second count," Henrickson said of the late-game, specialty situation. "Second is to turn 'em over. Third is to foul someone other than the guy they want to shoot the free throw."
The Jayhawks did one better. With Marisha Brown and Monica Engelman double-teaming Bolte, (a 90-percent free-throw shooter), Goodrich knocked the ball out of bounds off of Kelsey Harris, giving KU one more chance with 7.7 seconds to play. That's when the final play-call unfolded, and that's when the Jayhawks began to smile.
"This feels so good," said Davis, who tied a career-high with her 31 points. "We needed this one bad. We just needed a win in general. Beating a ranked opponent just makes it better. It's icing on the cake."
Henrickson said she was impressed by her team's poise, confidence and ability to bounce back time after time throughout the evening. That they were able to do it in overtime after trailing for the first time since midway through half impressed her even more.
"We always say overtime is our time," Henrickson said. "And then (talk) about being aggressive and attacking.
Kansas will look to knock off another ranked opponent Saturday at No. 6 Texas A&M.;
Copyright 2018 The Lawrence Journal-World. All rights reserved. This material may not be published, broadcast, rewritten or redistributed. We strive to uphold our values for every story published.