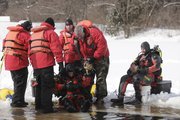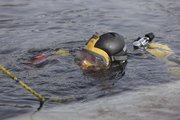 Four pulls mean send help. Always cut the hole in the shape of a triangle so it's easier to get out. Don't breathe into the air tank before going under because moisture can freeze the tank in the open position.
If you're a member of the Douglas County Underwater Search and Recovery Team, these are rules to live by.
Wednesday morning, the nine-member team ventured onto a frozen pond for practice dives under 7 inches of ice on Kansas University's West Campus. The recovery team is called on in all kinds of weather.
"It's dangerous stuff around here," said Dean Ohman, a member of the multi-agency team from the sheriff's office.
Ohman said the team, which comprises five police officers, one firefighter and three sheriff's officers, operates as a recovery team, not a rescue team. Often, they're called to recover evidence. The county does have a rescue team that responds immediately to emergencies.
"We can't operate that way. We don't have the people that are sitting there 24/7," Ohman said.
To start the day, the team located a spot on the pond where the water was deep enough to dive in. From there, the team shoveled snow in concentric circles around the location and shoveled lines pointing toward the hole, arrows included. Removing the snow was important so divers would have an indication of where the hole was, in case they became disoriented.
"The deeper you go, the blacker it gets," Ohman said.
Then out came the chainsaw, which was used to cut a triangle-shaped hole. The shape is important, so divers have a corner to back into to get out of the water.
Divers donned dry suits, which don't let any water in. Terry Haak, a diver with the police department, said the team was moving more toward that type of suit rather than a wet suit. In some dives, for example, water could be contaminated by chemicals.
On this one, the water was too cold for a wet suit, and the team took extra precautions. One member didn't dive because she was fighting a cold.
"We don't take any chances on dives like this," said Haak, a team member since 1988.
Under the dry suit, divers wear another suit for warmth.
"When the diver goes in, they're going into water that's not frozen, so they're warmer than us standing out here," Ohman said.
On top, divers wear a harness with an air tank and weights to offset the body's natural buoyancy. Altogether, the getup weighs about 80 pounds.
Under water, visibility is often very low, so divers must feel where they're going. The divers said they've found items ranging from car batteries to cell phones. One even found a lawn chair he still uses today.
Divers are attached by rope to another member of the team, who communicates with them via radio and is also tethered to the ice so they can't be pulled in. When one diver finishes, two team members haul him out of the corner of the hole. Then it's off to an ambulance to warm up and undergo an exam to detect ill effects from the dive.
Despite Wednesday's temperatures that were well below freezing, the team was happy to be out.
"It beats taking reports any day," Haak said.
Copyright 2018 The Lawrence Journal-World. All rights reserved. This material may not be published, broadcast, rewritten or redistributed. We strive to uphold our values for every story published.