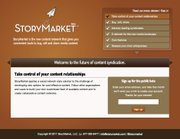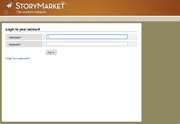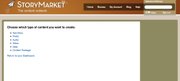 StoryMarket, a new content network for syndicators, publishers, freelancers and bloggers, is being launched this month by The World Company, publisher of the Lawrence Journal-World.
The Associated Press and Universal Uclick have signed agreements to contribute content to StoryMarket.
StoryMarket provides a new model for the licensing and circulation of content. Along with offering high-quality à la carte content from well-known syndicators, StoryMarket gives each user tools to easily sell or share their own text stories, photographs, videos, audio clips and story packages to other StoryMarket members.
"We created StoryMarket to help publishers develop more cost-effective content options, and to help creators of content, including major syndicators, to find more opportunities to have their work widely licensed and published," said David Ryan, StoryMarket's chief architect and product manager.
"In StoryMarket, you can you make your content available to other StoryMarket users in any way you like — for sale, for free, in trade with other organizations in public or private content-sharing groups. Each user has full control over their content's pricing, availability and licensing rights. Buy, sell or share — StoryMarket means content syndication on your terms."
StoryMarket is for media companies of all kinds, from freelancers to major news organizations, community newspapers, magazines, syndicators, radio stations, TV stations, bloggers and niche websites — anyone seeking new sources of content and/or new content revenue possibilities.
"In StoryMarket, you get a customized feed of content matching your topic interests based on the organizations and users you follow," explained Frank Wiles, StoryMarket chief technology officer. "We see the social network model as a great solution for helping people develop new content relationships that meet their specific needs. It's the heart of the StoryMarket network."
StoryMarket also gives members the opportunity to find new sources of content.
"We'd love to see first-rate bloggers establish relationships with print publications or magazines or radio stations looking for new sources of content," said Ryan.
Copyright 2018 The Lawrence Journal-World. All rights reserved. This material may not be published, broadcast, rewritten or redistributed. We strive to uphold our values for every story published.