Valentine's Day is supposed to be one of the romantic days of the year.
Dinner. Chocolate. Romance. Right?
Sure. But it also falls on a Monday this fine 2011, probably the least romantic day of the week. Mondays come with the stress of the work week, the usual "school night" routine and the promise of Tuesday just hours away.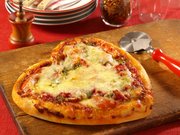 Take all those painful little non-romantic arrows and sharpen them with frigid temperatures, mounds of graying snow and the sure-fire date night crowds, and no one would blame you for wanting to celebrate your love from your kitchen table this Valentine's Day.
But fear not would-be romantics, we're going to make it easy on you. We talked with experts about style and sustenance and how to make an at-home Valentine's dinner feel different than an everyday eat-and-run with kids and/or obligations. Absorb their hints, take them to heart and let out your inner romantic.
Set the mood
Style and color. The best way to add drama or a bit of passion to a space you see every day — i.e. your dining room — is to change things up a bit with color says Scott Wisdom, designer/buyer for House Parts, 714 Mass. He says that one of the most romantic things you could do is to paint a wall of the room temporarily. While, yes, you'd probably have to repaint it afterward, a new red wall would definitely add some romantic oomph. Not one for painting? You could go the less messy route of buying new table linens or chair slip covers in a special color or texture, he says.
Don't forget lighting. You know how you can spot a romantic restaurant on the street simply by catching a look at the dim lighting? It's not just a trick for outsiders, the right lighting can make even the most common rooms seem extraordinary (and make you look equally as good), says Wisdom. He suggests using candles in the same color but different sizes as a centerpiece for your Valentine's table. That way, he says, you can add a nice glow without resorting to staid candlesticks. Another option? Putting floating candles (or the newer LED floating "candles") in a pretty bowl.
Consider a change of venue. Kansas City private chef Paige Vandegrift suggests that, if you can pull it off without a very unromantic back injury, to consider moving your table into the bedroom to dress up the location a bit. Changing your dining location to the bedroom can give you that feeling of being in a hotel and ordering fancy room service.
Avoid being cliché or cheesy. Wisdom notes that Valentine's might be the most difficult holiday to get through without a clichéd or overly cheesy present. He says, if possible, to avoid anything with hearts or cherubs or anything else overtly symbolic in your wrapping, cards or decor. The best way to stay elegant in the midst of chocolate hearts? Go for a single, strong, classic color like white or red, and avoid sprinkling rose petals anywhere. It's been done before. Though, Wisdom says that if you couldn't resist and bought a dozen roses, to think about breaking up the bouquet and putting each flower in a separate small vase and creating a collage.
Set the table
Work ahead. Vandegrift says that because Valentine's falls on a Monday this year, it would be a good idea to use Sunday as an opportunity to do your kitchen prep. Chop your vegetables, prepare your meat, pre-bake your entree, if possible. Basically, get all the hard or messy parts of meal preparation over with. That way, after your special Valentine's dinner you don't have to lose the lovey-dovey feeling to do the dishes or clean up a war zone of a kitchen.
Keep it simple, but special. While the idea of a big, romantic meal is great, Vandegrift says you can totally deflate the feeling if you're stressing out over every little thing and burning off that stress by taking it out on your loved one. Consider keeping the meal simple. Pick a recipe you know how to make and fancy it up with a special ingredient. Or make something you'd traditionally make, but add a special dessert. One idea? Vandegrift calls those small, simple homemade "lava cakes" the perfect Valentine's treat because they mix up quickly and are a "fast and sexy little dessert."
Don't make the meal the star. When you spend a lot of time in the kitchen on a meal, you often spend as much time talking about it as you do eating it (think of all those discussions of moist turkey at Thanksgiving). You don't want to do that on Valentine's Day, Vandegrift says. Rather than slaving over something so long you can't talk about anything else, do as Vandegrift suggested above and keep things as simple as you can.
Keep it, um, light. Vandegrift points out that you probably don't want to have a heavy meal on Valentine's Day. No one wants to feel full and sleepy after a Valentine's meal, just in case you want to do something romantic afterward, like, say, making snow angels.
Valentine's Day Salad
1 head leaf lettuce washed and torn into bite size pieces or 1 package salad mix
1 cucumber, sliced into 1/4-inch thick slices
1 basket tomatoes, cut into wedges or cherry tomatoes
3 ounces dried cranberries
Toss all ingredients together. Serve cold with your favorite vinaigrette.
— Recipe from www.melissas.com.
Valentine's Day Deep Dish Pizza
1 tube (2.8 ounces) sun-dried tomato paste 
2 teaspoons garlic paste
1 tablespoon olive oil
1/2 medium tomato
1 pound fresh or thawed frozen pizza dough
6 ounces thin sliced provolone cheese
2 ounces thinly sliced prosciutto
1 jar (8.5 ounces) roasted red peppers, drained and patted dry
2 tablespoons pesto paste
12 ounces shredded mozzarella
Preheat oven to 425 degrees. Line a 10 x 2-inch heart-shaped or round cake pan with aluminum foil, overlapping the sides of the pan 2 inches. Lightly oil the foil.
Stir together the sun-dried tomato paste and garlic paste with the olive oil and oregano. Cut the tomato in half and remove the core. Squeeze the tomato to discard the juice. Slice thin.
Pat the dough out evenly to fit the pan, pressing the dough against the sides and around the rim. Arrange half the provolone slices on top of the dough. Spread with the sun-dried tomato mixture. Arrange the remaining ingredients as follows: prosciutto, roasted red peppers and remaining provolone. Dot with the pesto paste. Top with a layer of the tomato slices followed by the mozzarella.
Bake 35 minutes or until browned and bubbling. Let stand 10 minutes.
Use the foil to lift the pizza from the pan. Slide onto a cutting board and discard the foil. Cut into wedges to serve.
Makes 6 servings.
— Recipe from Jennifer Moore with Amore.
Lava Cake
6 squares (6 ounces total) bittersweet chocolate
2 squares (2 ounces total) semi-sweet chocolate
1-1/4 sticks butter
1/2 all-purpose flour
1-1/2 cups powdered sugar
3 large eggs
3 egg yolks
1 teaspoon vanilla
2 tablespoon orange liqueur
Preheat oven to 425 degrees. Grease 6 custard cups. Melt the chocolates and butter in the microwave. Add the flour and sugar to chocolate mixture. Stir in the eggs and yolks till smooth. Stir in the vanilla and liqueur.
Divide the batter evenly among the custard cups.
Place in the oven and bake for 14 minutes. The edges will be firm but the centers will be runny. Run a knife around the edges to loosen and invert onto desert plate.
— Recipe from www.kraftrecipes.com.
Copyright 2018 The Lawrence Journal-World. All rights reserved. This material may not be published, broadcast, rewritten or redistributed. We strive to uphold our values for every story published.