Discovery of an ancient recording of Nordic music in Kansas University's music library changed Byron Wiley's life direction, led him to discover his Swedish roots and form Ingevalds Spelman, a Scandinavian music group.
Wiley, grandson of Russell Wiley, KU's band director from 1934-68, and 1924 Olympic bronze medalist Tom "Kansas Grasshopper" Poor, vaguely knew his ancestors were Swedish. It didn't have much impact on his early life in Corpus Christi, Texas. As a child he enjoyed listening to his parents' classical records and KU band recordings. He started piano lessons in third grade, played baritone through high school and learned banjo and mandolin before arriving at KU in 1987.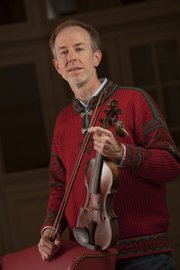 Encouraged by local luthier and music store owner Steve Mason, Wiley attended local jam sessions.
"Playing and interacting with local musicians helped increase my musical skills," he explains. "It sparked my interest in American old-time fiddling, and I decided to learn the violin in 1991."
He visited KU music library to learn more about violin music and found Loretta Kelley's article "Hardingfele — the Nordic survivor" in an edition of "The Strad" and an old recording of "Norway." (Hardingfele is the Norwegian word for the Hardanger fiddle, a unique 8-9 stringed baroque-style folk instrument played in Norway.)
"It's hard to explain the excitement I felt reading about this unusual instrument for the first time," he explains.
"As I listened to the extraordinary ancient recording with the beautiful haunting sounds of the Hardanger fiddle, langeleik (type of zither,) seljefloyte (willow bark flute) and voice, I wondered why I hadn't been exposed to such beautiful music before."
He wrote the Hardanger Fiddle Association of America and learned about a week-long Scandinavian music dance camp in West Virginia.
"The 1992 Camp changed my life direction," he says. "It exposed me to fabulous Swedish and Norwegian music and dance, inspired me to purchase recordings, attend workshops, learn to play Swedish and Norwegian fiddles, and search for my Swedish ancestors."
He returned to Lawrence and realized there weren't any Scandinavian fiddlers locally to learn from. The only serious Scandinavian musical presence in Kansas was in Lindsborg, so he started a local ensemble.
He named it "Ingevalds" after a distant Swedish ancestor and "Spelman" (denoting a group of fiddlers and musicians.) The group played for dances and events around Kansas City. Prompted by the parent of a skilled young musician and encouraged by his partner Theresa Martin, Wiley reorganized the group in 2006. He focused on recruiting young musicians and a stable adult core.
Wiley visited Sweden in 2000, met distant relatives and studied Swedish fiddle technique with Kalle Almlof. He returned in 2010 with two seasoned young musicians from his group, stayed with Swedish relatives, participated in workshops, played at festivals and took private music lessons.
"It's important to involve young folks in an active, stimulating group environment," he says.
"Becoming involved in rich living traditions of music benefits oneself as well as the community. Through music and dance, people can connect with one another, enjoy an event and can talk about other interesting happenings in life."
Copyright 2018 The Lawrence Journal-World. All rights reserved. This material may not be published, broadcast, rewritten or redistributed. We strive to uphold our values for every story published.