A racing motorcycle with no brakes.
And be careful about the tire pressure; if it's low, the tires could fly right off.
Photo Gallery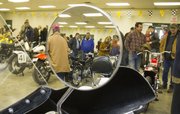 Santa Fe Trail Vintage Motorcycle Show and Swap Meet
Hundreds of people filled Building 21 at the Douglas County Fairgrounds to see dozens of vintages motorcycles on display at the Santa Fe Trail Vintage Motorcycle Show and Swap meet Sunday, Feb. 6, 2011.
"You gas and go and hope," said Kris Thompson of racing his 1919 Indian motorcycle that can shoot up to 70 miles per hour. "Push start and you hang on."
Thompson hauled his vintage bike down from Lincoln, Neb., and he was showing it off to hundreds of motorcycle aficionados Sunday at the second annual Santa Fe Trail Vintage Motorcycle Show and Swap Meet at the Douglas County Fairgrounds.
Leather jackets, Harley gear, and ZZ Top-style beards were in full supply, as bike lovers packed Building 21 and milled about, admiring the hundred or so antique bikes. The bikes came in all styles and sizes — but all were at least 25 years-old.
Jim Sneegas, president of the Santa Fe Trail chapter of the Antique Motorcycle Club of America, said the event was a fun way to let bike lovers appreciate vintage motorcycles. Various raffles and contests raised money to help support the nonprofit organization, and leftover funding is donated to charity, Sneegas said.
There were a few young faces in the crowd, but many of the attendees were in their 50s and 60s. The beards are gray now; the leather jackets and tattoos of younger and wilder days a little faded. Earlier passions for fast, shiny bikes had matured into an appreciation for the classics on display.
Sneegas mingled through the crowd in what looked like a pseudo family reunion, as the bikers talked shop and caught up on old times.
"When they come out here, you run into people you haven't seen in years," Sneegas said.
Copyright 2018 The Lawrence Journal-World. All rights reserved. This material may not be published, broadcast, rewritten or redistributed. We strive to uphold our values for every story published.