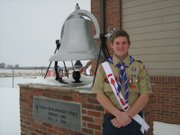 Tom Stanley, 18, of Eudora Boy Scout Troop 64 received his Eagle rank Jan. 22 at a Court of Honor held at the Eudora United Methodist Church. Stanley is the son of Kim Stanley and Ron Stanley. For his Eagle project, Stanley renovated the bell from the Salem Evangelical United Brethren Church in Eudora, had a base built and the bell mounted at the new Eudora United Methodist Church located at 2084 N. 1300 Rd.

Stanley earned his Arrow of Light in Eudora Cub Pack 3064 in February 2003 and joined Lawrence Boy Scout Troop 53 in March 2003. He transferred to Eudora Troop 64 in February 2004. Stanley has helped with the annual Scouting-for-Food projects, attended summer camps at Camp Naish and Camp Alexander, and participated in a high adventure trip to the Somers Canoe Base at Ely, Minn.
Troop 53 will host its 91st annual chili feed from 11 a.m. to 7 p.m. today (Feb. 5) at First United Methodist Church, 946 Vt. Tickets are $5 and include choice of chili, soup or baked potato, drink and dessert. Proceeds will help pay for summer camp and new equipment for the troop.
Copyright 2018 The Lawrence Journal-World. All rights reserved. This material may not be published, broadcast, rewritten or redistributed. We strive to uphold our values for every story published.