Photo Gallery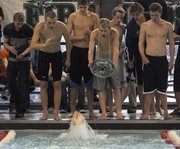 2011 Sunflower League swimming championships
On the surface, the first day of the Sunflower League swimming meet doesn't mean much. No team points are awarded. No league titles are earned.
But in reality, Friday's jockeying for seeding for today's finals is very important to how both Lawrence High and Free State High finish in the team standings.
Take Free State's Ethan Fisher. He finished fifth in the 200 freestyle, but called it a "horrible" race. He swam a 1:54.53, about three seconds slower than his fastest time of the season.
"I'm looking forward to really coming back hard in the finals and getting first," Fisher said.
Free State's Nolan Frank finished sixth in the race. That means that Free State will have two swimmers in today's six-swimmer 200 freestyle finals.
If either Fisher or Frank would have finished seventh or worse, they wouldn't have been capable to gain more points than are slotted to their seeds. Swimmers in the finals automatically earn more points than swimmers in the consolation finals.
Frank said that coach Annette McDonald tells her team all the time that numbers win, meaning that the teams with the most swimmers in finals often end up placing well at the end of the meet.
Swimmers also tend to swim better times amid the best competition.
"It's kind of exciting when you're in the fastest heat because you push yourself," McDonald said.
Frank, who is swimming in his fourth and final league meet, said he enjoyed the atmosphere. The bleachers next to the pool were filled with passionate swimming fans.
"This is one of my favorite meets of the year because everyone gets to see how competitive swimming can get," Frank said.
Since Lawrence High is hosting this season's meet, LHS coach Kent McDonald, Annette's husband, is responsible for setting everything up.
"Luckily it's only every 12 years," McDonald said.
He hopes his team can finish in the top six and said the Lions are battling with Shawnee Mission North. The Indians have beaten the Lions at two separate meets this season, but it's been very close.
The Firebirds' goals are a bit higher — they're aiming for a top-three finish.
The Sunflower League meet is often a preview of the state meet, considering the high quality of teams at the top of the league.
"If we're top three here, we're pretty much top three at state," Fisher said.
Frank said that seeing the other quality teams in the state, such as Shawnee Mission East and Olathe East, serves as good motivation for the two before state.
"This year, we're right with them," Frank said.
The diving portion of the meet starts at 8:30 Saturday morning. Swimming will start at 1 p.m.
Copyright 2018 The Lawrence Journal-World. All rights reserved. This material may not be published, broadcast, rewritten or redistributed. We strive to uphold our values for every story published.