On the street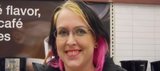 It depends on where you live. $73 is too much.
Seventy-three dollars — the ticket amount for not clearing your sidewalk of snow — may be the figure most on your mind as you grab a shovel this weekend.
But city officials say there are other important figures to remember too. The city has new data about how often city sidewalks are used that might give people extra motivation to make sure they do their part to keep sidewalks clear.
"These numbers tell us people really are out there," said Jessica Mortinger, a transportation planner for the city. "People sometimes say they drive by and never see anybody using a sidewalk, but that's really not the case."
The new numbers were gathered in September — sans snow — but they show that pedestrians and bicyclists make up more than 8 percent of all traffic on some stretches of streets.
The city gathers the data as part of the National Bicycle and Pedestrian Documentation Project, which aims to provide good information to community leaders making decisions about future bicycle and pedestrian projects.
Volunteers are stationed at specific counting stations during three two-hour time slots that include both weekend and weekday hours. The hard data is then used to create monthly and annual projections using methodology developed by engineers from around the country.
Here's a look at the numbers, although the city doesn't provide specific locations in order to not compromise future traffic counts:
• Naismith Drive: 571 pedestrians per day or about 208,000 per year.
• Massachusetts Street: 509 per day or about 186,000 per year.
• West Ninth Street: 431 per day or about 157,000 per year.
• West 27th Street: 290 per day, or about 105,000 per year.
• North Second Street Bridge: 230 per day or about 84,000 per year.
• East 19th Street: 101 per day or about 37,000 per year.
• Harvard Road: 94 per day, or about 33,700 per year.
• Monterey Way: 92 pedestrians per day, or about 33,600 per year.
• West Sixth Street: 71 per day, or about 26,000 per year.
• Bob Billings Parkway: 60 per day, or about 22,000 per year.
• Iowa north of 15th Street: 55 per day or about 20,000 per year.
The report also compares the amount of pedestrian traffic along the roads with the amount of vehicle traffic. West 27th Street had the highest percentage of pedestrians at 8.97 percent. When you throw in bicyclists, the number of nonmotorized users grew to 13.95 percent. Iowa Street north of 15th Street had the lowest percentage at 0.22 percent. At six of the 12 locations, pedestrians accounted for more than 1 percent of the total usage.
The other locations where that was the case were Naismith Drive, 8.22 percent; Harvard Road, 4.35 percent; West Ninth Street, 3.13 percent; Massachusetts Street, 3.03 percent; and Monterey Way, 1.23 percent.
As for shoveling your sidewalk, the city is scheduled to start ticketing property owners on Monday for sidewalks that aren't shoveled. The fine is $20 but court costs add another $53 onto the total cost of the ticket.
Copyright 2018 The Lawrence Journal-World. All rights reserved. This material may not be published, broadcast, rewritten or redistributed. We strive to uphold our values for every story published.