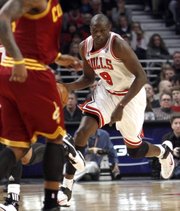 San Francisco — Luol Deng alternated between philosophical and downright surprised that the Bulls were shut out in voting for All-Star reserves.
"We have bigger goals than All-Star," Deng said Friday before practice at a downtown health club. "We have a lot of things to prove. I know it's our first year doing so well and being up there with the elite teams. This shows the respect isn't there yet.
"I have no doubt we're going to work hard. And hopefully at the end of the season, we'll get rewarded."
The 34-14 Bulls weren't rewarded in reserves voting by Eastern Conference head coaches and will send only Derrick Rose, who was voted a starter by fans, to the Feb. 20 game in Los Angeles.
The 35-14 Heat had LeBron James and Dwyane Wade voted in by fans and Chris Bosh added as a reserve. The Eastern Conference-leading Celtics (37-11) have four reserves: Kevin Garnett, Paul Pierce, Ray Allen and Rajon Rondo.
"I'm disappointed," Deng said. "To go there and represent the team would've been great. It's weird to me we only have one. All I can do is put it in the past. I really think I'm a step ahead of where I was last year, so my main thing is to keep going forward. There's nothing I can do about it.
"But I'm surprised. As a team, I feel like we went through a lot with injuries. We had Carlos (Boozer) and Joakim (Noah) missing. And I feel like other teams had injuries, and some of those guys that were hurt made it."
That's a direct reference to Johnson and Garnett, both of whom missed time because of injuries, though Boozer missed more.
"I didn't think I was going to make it because I didn't play enough games," Boozer said. "I really wish Luol would've made it. He's very deserving. He's played in every game this season. He's having a monster year."
Coach Tom Thibodeau lobbied for Boozer and Deng with fellow coaches.
"What I like about our team is the things we do have control over, our players have done a great job with that. They've been ready to play each day. They've practiced well. As we go forward, the more we win, the more we will get recognized."
Copyright 2018 The Lawrence Journal-World. All rights reserved. This material may not be published, broadcast, rewritten or redistributed. We strive to uphold our values for every story published.