It's all so thrilling, at first. The fevered anticipation, the gung-ho enthusiasm…
"Big snowstorm coming," you cry, breathlessly. "Weather Channel says it's going to be a colossal event. 'Colossal,' they said. And 'historic.' Look! I've got goose bumps!"
You love snow. You love emergencies. You are SNOW excited!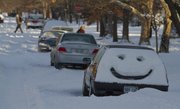 Off you scamper to the grocery store — with 600 of your breathless, overreacting neighbors — to stock up on ingredients for all your go-to comfort foods: White chili, Mulligatawny soup, fried egg sandwiches, lasagna, Thai-style curried chicken, meatloaf, tuna noodle casserole, beef tortellini, Tollhouse cookies, mac and cheese, stuffed mushrooms with crab, "Death by Chocolate" brownies, oven-roasted sweet potato fries, white chocolate flan with caramel sauce, skim milk.
(Hey. When the Weather Channel says "colossal," who are you to poo-poo?)
With the kitchen stocked and staged for Snowmaggedon (the first of so many clever monikers to come), you hunker down — laptop on thighs, cell phone in hand — to watch the Blizzard of Oz roll in.
It. Takes. FOREVER!
"Where is it now?" your spouse yells from the garage, where he's sharpening the blade of his snow shovel with a grinder.
"You mean, Snowpocalypse 2011? Still can't see it on the radar. But it's coming!"
Ten to 14 inches expected, according to my Weather Underground app.
After a brief check of your firewood inventory, you grab the remote and surf to a "Special Report" on TV:
Anchor 1: "We're in all-hands-on-deck mode here at WOMG to bring you up-to-the-minute movement of Snowzilla 2011, the merciless mega-monster storm that threatens to pulverize, then paralyze, the metro and much of the country."
Anchor 2: "For the very latest, let's go LIVE to our very own Candy Kain on the Interstate. Hey, Candy."
Candy: "Hey, guys. Well, as you can see, I'm wearing my puffiest parka and furriest chapeau in anticipation of our WOMG 'snow-holds-barred coverage.' (She giggles uncontrollably.) Sorry, guys. Couldn't resist!"
Anchor 1: "Snow biggie, Candy!"
Anchor 2: "Snow worries!" (She snorts for effect.)
Candy: "Snow — I mean — so, there's not a whole lot to see right now. But (she steps dangerously close to the highway), by tomorrow morning, these roads will be SNOW-going with unprepared drivers stuck in the SNOW-passing lane. City officials tell me their trucks are ready to go, and there's SNOW limit to their salt supplies. Sorry, guys! My mind's in SNOW-man's land tonight. Must be the hat! This is Candy Kain, W-SNOW-MG, reporting live. Back to you in the studio."
Anchor 1: (Chortling) "Oh SNOW you didn't!"
Anchor 2: "Snow way, Candy!"
Disgusted, you click off the TV, check the radar on your laptop for the 300th time, and start cooking.
One cauldron of chili, a pot of soup, two flans and four-dozen Tollhouse cookies later, you're exhausted. It's still not snowing, and your husband's office has canceled work for tomorrow. A sense of dread envelops you like Candy's puffiest parka. You pop an Ambien — because it is a bona fide emergency, after all — and go to bed.
The next morning, you wake to the sound of a freshly sharpened shovel scraping the front walk. Snowmaggedon is here.
Through the excruciatingly long day, your attention drifts from the snow globe swirling outside your windows to your stubborn spouse, who refuses to stop shoveling 'lest "the storm get ahead of me," to poor Candy, who is looking more like Nanook of the North as the Blizzard of Oz bears down:
Anchor 1: "Continuing our exclusive, snow-holds-barred coverage, let's check in with our very own Candy Kain, still on the Interstate."
Anchor 2: "Hey, Candy. How's the furriest chapeau treating you?"
Candy: "Snow p-p-p-roblem, g-g-g-uys. (Her teeth are chattering into the mic.) As you c-c-can see (she gestures like the Tin Man after a hard rain), everyone has h-h- heeded the governor's warning to stay home d-d-due to Snowgasm 2011."
You flip off the tube, so as not to suffer another one of Candy's snowisms. As you reheat the chili for the 10th time in 24 hours, you realize you no longer love snow.
Or emergencies, for that matter. Thanks to the 24-hour news cycle, it's all just snowverkill.
Time to hang up the shovel and think spring.
But then, I guess that's a snow-brainer.
Copyright 2018 The Lawrence Journal-World. All rights reserved. This material may not be published, broadcast, rewritten or redistributed. We strive to uphold our values for every story published.