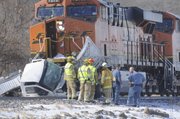 A 22-year-old rural Lecompton man died early Friday afternoon after a train hit a pickup truck northwest of Lawrence.
Douglas County Undersheriff Steve Hornberger said the collision occurred at a BNSF Railway Company crossing at East 950 Road, northwest of Lakeview Lake. The train came to a stop about a half-mile east of the crossing, and the truck had sustained heavy damage, especially on the driver's side of the vehicle.
The accident was reported just after noon. After they notified his family, sheriff's officials Friday evening identified the victim as Kyle Snyder.
Hornberger said Snyder was the driver of the pickup truck and that no one else was in the vehicle. The pickup truck was headed north on East 950 Road, which is a gravel road, at the crossing, the undersheriff said.
Andy Williams, a BNSF spokesman, said it was a public crossing that was not protected by flashing lights or gates. The intersection does have crossbucks identifying it as a railroad crossing, he said. The train was headed from California to the Kansas City area.
Lexie Engleman, who lives in the area, said neighbors are cautious of the crossing, especially because it does not have lights and gates and because it is an isolated road.
"I think any crossing is dangerous, but I think it's one that you really need to be careful with," she said. "If you're not familiar with it, it can come up on you before you know it."
Hornberger said Friday evening he could not comment about whether snowy or icy conditions could have played a factor because he said officers were still examining several factors. He said the accident remained under investigation and that no new information would likely be available until Monday.
"We're trying to piece everything together," Hornberger said.
Copyright 2018 The Lawrence Journal-World. All rights reserved. This material may not be published, broadcast, rewritten or redistributed. We strive to uphold our values for every story published.