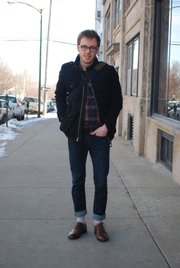 Name: Justin Klaas
Age: 22

Sign: Aries

Occupation: Barista

Hometown: Kansas City

Time in Lawrence: Four years

What were you doing when you were scouted? Shopping downtown.
How would you describe your style? I try and not splurge a whole lot. I buy mostly sale stuff and work with what I have. I try to look as good as I can with a tight budget. 

What are your favorite fashion trends? I love button up shirts, I have a lot of those. I'll also admit I have an affinity for thermal and flannel shirts, I don't think that'll ever change. I'll be that guy five years from now still wearing flannels while everyone else is wearing some cashmere/polo/denim/flannel hybrid thing.

What are your least favorite fashion trends? Thanks to a friend I now know there is such a thing as pajama jeans –– really? That would have to be at the top of my list. 

What would you like to see more of in Lawrence? Coffee Shops downtown that are hiring! ;)

What would you like to see less of in Lawrence? Snow, in light of this "Blizzard of Oz" as some people are calling it. 

Do you have any piercings or tattoos? None yet but hope to get a tattoo this summer. Mom, if you're reading this disregard what you've read!

Do you have any fashion influences? Mostly my friends, they tend to dress much better than I do -- I'm just trying to keep up.

People say I look like... Toby Maguire

Tell us a secret: I am really looking forward to the day when I can wear "dad clothes" like the ones in the window display at Weavers. I believe I can only keep this fashion thing going for so long before it just looks like I am trying too hard.
Copyright 2018 The Lawrence Journal-World. All rights reserved. This material may not be published, broadcast, rewritten or redistributed. We strive to uphold our values for every story published.