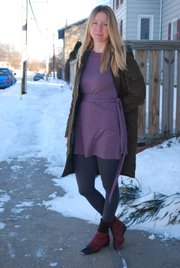 Name: Emily Hampton

Age: 31

Sign: Scorpio

Occupation: Food Systems Coordinator, DCCDA (Douglas County Child Development Association)

Hometown: Lawrence

Time in Lawrence: On and off since age eight.
What were you doing when you were scouted? Shoveling my way out of hibernation.

How would you describe your style? Muted and muffled. I put less thought into my wardrobe than most men and all women I know. I try to blend in without being totally tasteless. And I let other people dress me.

What are your favorite fashion trends? I like it when people dress appropriately for their environment, but that's probably not a trend. I suppose I like beards, boots, and booties.

What are your least favorite fashion trends? Oh, I'll jump on the bandwagon and go with those annoying pajama pants in public.

What would you like to see more of in Lawrence? People outdoors — climbing, biking, swimming, dancing, gardening — and more fun people around my age. But this is a pretty great place, isn't it?

What would you like to see less of in Lawrence? Folks sitting around in bars. Also less barriers for young and small-scale farmers.

Do you have any piercings or tattoos? Two tattoos. Both depict branches.

Do you have any fashion influences? Hmm ... Jane Goodall, Spike from Degrassi High, and of course hip-hop culture.

People say I look like... Jennifer Aniston or Gwyneth Paltrow. Any blonde with a larger nose.

Tell us a secret: My daughter, Malka, is outrageously brilliant. But that's no secret!
Copyright 2018 The Lawrence Journal-World. All rights reserved. This material may not be published, broadcast, rewritten or redistributed. We strive to uphold our values for every story published.