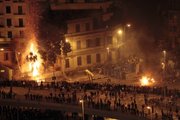 Bursts of heavy gunfire rained into Cairo's Tahrir Square before dawn today, killing at least three anti-government demonstrators among crowds trying to hold the site after a dramatic assault hours earlier by supporters of President Hosni Mubarak, according to a protest organizer.
Sustained bursts of automatic weapons fire and powerful single shots rattled into the square starting at around 4 a.m. and continued for more than two hours.
Protest organizer Mustafa el-Naggar said he saw the bodies of three dead protesters being carried toward an ambulance. He said the gunfire came from at least three locations in the distance and that the Egyptian military, which has ringed the square with tank squads for days to try to keep some order, did not intervene.
Footage from AP Television News showed one tank spreading a thick smoke screen along a highway overpass just to the north of the square in an apparent attempt to deprive attackers of a high vantage point. The two sides seemed to be battling for control of the overpass, which leads to a main bridge over the Nile.
In the darkness, groups of men hurled firebombs and rocks along the bridge, where a wrecked car sat engulfed in flames. Others dragged two apparently lifeless bodies from the area.
Egypt's health minister did not answer a phone call seeking confirmation of the number killed.
Throughout Wednesday, Mubarak supporters charged into the square on horses and camels brandishing whips while others rained firebombs from rooftops in what appeared to be an orchestrated assault against protesters trying to topple Egypt's leader of 30 years. Three people died in that earlier violence and 600 were injured.
The protesters accused Mubarak's regime of unleashing a force of paid thugs and plainclothes police to crush their unprecedented nine-day-old movement, a day after the 82-year-old president refused to step down. They showed off police ID badges they said were wrested from their attackers. Some government workers said their employers ordered them into the streets.
Mustafa el-Fiqqi, a top official from the ruling National Democratic Party, told The Associated Press that businessmen connected to the ruling party were responsible for what happened.
The notion that the state may have coordinated violence against protesters, who had kept a peaceful vigil in Tahrir Square for five days, prompted a sharp rebuke from the Obama administration.
"If any of the violence is instigated by the government, it should stop immediately," said White House Press Secretary Robert Gibbs.
The clashes marked a dangerous new phase in Egypt's upheaval: the first significant violence between government supporters and opponents. The crisis took a sharp turn for the worse almost immediately after Mubarak rejected the calls for him to give up power or leave the country, stubbornly proclaiming he would die on Egyptian soil.
Copyright 2018 The Associated Press. All rights reserved. This material may not be published, broadcast, rewritten or redistributed. We strive to uphold our values for every story published.