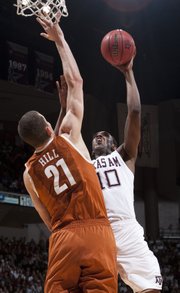 College Station, Texas — No. 3 Texas 69, No. 16 Texas A&M; 49
Moments after Texas wrapped up its victory over Texas A&M; on Monday night, Aggies coach Mark Turgeon delivered a message to winning coach Rick Barnes.
"I told Rick, if they keep improving and stay healthy, they can win a national championship," Turgeon said. "I haven't said that about many teams. I said that about Kansas the year they won it. I've been doing this 24 years, and I haven't seen many teams as good as Texas."
Jordan Hamilton scored 20 points to help the Longhorns to their first victory in College Station since 2004.
Texas never trailed and built a 25-point lead by halftime thanks to hot shooting and its trademark stifling defense. The Aggies outscored the Longhorns by five points in the second half, but the dominant first half kept Texas (19-3, 7-0) undefeated in the Big 12.
Texas outscored the Aggies 14-4 on fast breaks, and Texas A&M; seemed to have trouble keeping up with the Longhorns' pace of play.
"We want to run," Barnes said. "We want to get out in transition. We wanted to have that mind-set, to push it."
The Longhorns are still looking for more on defense despite the strong performance.
"We can still get better," guard Dogus Balbay said. "We still make mistakes. We've got to eliminate those. We can always get better on defense."
The Aggies (17-4, 4-3) have lost three of four in a skid that began when Texas beat them, 81-60, in Austin less than two weeks ago to snap a 13-game winning streak.
Turgeon is worried about his team after an effort he called embarrassing. He believes his players got too high on themselves during their winning streak.
"I've got to get my team back," he said. "I don't like the way we're playing. I think we just got really caught up in ourselves and became a little bit uncoachable. I've felt this coming for a while and I just hope I can fix it by Saturday."
B.J. Holmes had 19 points for Texas A&M.; He bruised his right knee late in the game and had to sit out, but Turgeon isn't sure if the injury will keep him out on Saturday against Baylor.
The Longhorns haven't lost since dropping an 82-81 overtime decision to Connecticut on Jan. 8 and are 7-0 in league play for the first time since 1977-78.
Copyright 2018 The Associated Press. All rights reserved. This material may not be published, broadcast, rewritten or redistributed. We strive to uphold our values for every story published.