Photo Gallery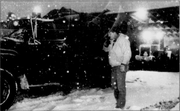 Biggest snow storms of the past 20 years
In the past 20 years, five storms have dropped 5.6 or more inches of snow on Lawrence. With the Feb. 1, 2011 storm expected to drop 9 to 13 inches of snow on Lawrence, it would easily be the most snowfall Lawrence has seen in the last 20 years, and would also approach the top five all time.
Winter records in Lawrence
Record snowfalls for Lawrence
• 20 inches March 23, 1912
• 15 inches Feb. 27, 1900
• 12 inches Jan. 9, 1930
• 11 inches Dec. 5 1942
• 10.3 inches March 4, 1915
In the past 20 years
• 7 inches Dec. 8, 2005, Oct. 22, 1996, Feb. 25, 1993
• 6.2 inches Dec. 25, 2009
• 5.6 inches Dec. 13, 2000
Record cold temperatures
-25 degrees Feb. 12, 1899
-21 degrees Dec. 22, 1989 and Jan 12, 1912
-20 degrees Dec. 23, 1989 and Feb. 15, 1905
Source: National Weather Service
For the entire month of January, Thelma Dillon waded through towering snow drifts as she walked up a long, winding lane to her home.
It was the winter of 1979. On Jan. 13 of that year, 9.6 inches of snow fell. It's a total that hasn't been surpassed in any January since.
For Dillon, the mounting snow drifts made the lane impassable even in her brand new pickup truck. So to get from her farm house in Pleasant Grove to her job at Kansas University, she trudged up and down the quarter-mile lane by foot.
"I doubt if I missed a day (of work)," Dillon said. "But the snow drifts were up to my waist."
It was one of the worst winters the 89-year-old Douglas County resident can recall.
As a blizzard swirled around Lawrence Tuesday morning, the National Weather Service was calling for snow accumulation to potentially break into the top five all-time daily snow falls.
The highest daily snow fall on record occurred on March 23, 1912, when 20 inches fell.
In the past 20 years, the biggest snowfalls in Lawrence have occurred on Dec. 8, 2005; Oct. 22, 1996; and Feb. 25, 1993. Seven inches fell on each of those days.
Kansas State Climatologist Mary Knapp said snow comes in cycles. The snowstorms that have wreaked havoc throughout much of the country this year can largely be attributed to La Nina. The weather phenomenon, caused by cooler water temperatures in the tropical Pacific Ocean, displaces the jet stream farther north.
But Knapp said Lawrence also is right on the cusp of a climate pattern know as the North Atlantic oscillation, which brings Arctic air over the Atlantic seaboard and Midwest.
"It can go in waves," Knapp said of snowfall.
Roy Cropp, an 85 year-old Lawrence resident who taught at Lawrence High School for 36 years, said the recent winters remind him of his childhood.
"We are having harder winters this year and last year that compare to some of the winters we had growing up in the 1930s and 1940s," Cropp said.
As a school teacher in Burlingame, Cropp remembers driving a school bus through 4-foot drifts in the early 1950s. When he got stuck, local farmers would help dig him out.
Dillon has other snow storm memories. During the 1940s, her children couldn't get home from school after one particularly harsh storm and they had to spend several nights at a nearby friend's house. In her childhood in the 1920s, Dillon recalls one blizzard in her hometown of Williamsburg that nearly buried the bungalow her father had recently built.
This year Dillon is spending her winter in a retirement home at Drury Place, but she plans to return to the farmhouse with the winding lane come spring.
"I'm glad I'm not there during this snowstorm," she said.
Copyright 2018 The Lawrence Journal-World. All rights reserved. This material may not be published, broadcast, rewritten or redistributed. We strive to uphold our values for every story published.