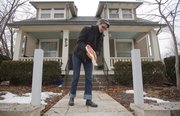 Last free snow day
Next time Superintendent Rick Doll cancels classes, his bosses on the Lawrence school board will be responsible for readjusting schedules for the district's 11,000 students.
Any future snow days would need to be made up by the end of the academic year, likely by adding a few minutes to the end of each school day, said Julie Boyle, the Lawrence school district's communications director.
Making that decision would be the school board, which is responsible for seeing that students get their state-mandated 1,116 hours of instructional time before summer vacation begins.
All of the district's snow days so far — Jan. 10, 11, 20 and Feb. 1 — either have makeup days built into the schedule or do not need to be made up.
Injured on the ice
Lawrence Memorial Hospital's Emergency Room staff was busy Monday treating people who fell on icy sidewalks and parking lots.
Belinda Rehmer, an LMH spokeswoman, said 20 people had come to the ER by the afternoon after freezing drizzle made surfaces slippery starting in the morning.
Rehmer said all of the patients were treated and released, but most will likely have follow-up visits with orthopedic doctors. Hospital staffers were encouraging people to be careful, especially when getting out of their vehicles.
A snow storm that's barreling through the Midwest has public safety officials advising residents to be prepared to stay at home for a few days.
The National Weather Service has issued a blizzard warning for Douglas County, with heavy snowfall this morning through late tonight with total snow accumulation of 10 to 13 inches.
Having enough bottled water, nonperishable food and medication to last at least three days are among the steps Kansas Adjutant General Lee Tafanelli recommends. And here are some other ideas to help you survive:
Stay warm
• Wear several layers of loose clothing, gloves or mittens, hats and boots, says Kim Ens with the Lawrence-Douglas County Health Department. Wear a shirt that wicks away sweat underneath to keep you dry and boots with sturdy footing to avoid falls. Bundle up in a ski mask or scarf, Ens said.
• Dr. Thomas Marcellino of Lawrence cautioned that frostbite can occur rapidly when temperatures reach zero, and he said frostbite is more likely to happen if you wear tight clothing, are in a cramped position, if you smoke or drink alcohol, or have diabetes or neuropathy.
• Stay hydrated. Drinking water is just as important in winter as it is in summer, Marcellino said. Ens recommends drinking hot tea or cocoa to stay warm. But avoid alcohol or caffeinated drinks.
• Check on elderly neighbors to make sure they're warm enough and have plenty of food, water and medicine. If you can, shovel their sidewalk.
• Once temperatures get below 20 degrees, pet owners should think about bringing outdoor cats and dogs inside, said Midge Grinstead, Lawrence Humane Society director. Keep pets in garages, barns and sheds and have warm blankets and straw available. Make sure the animal's water doesn't freeze and your pet doesn't lick or eat the snow.
Power outages
• Have emergency telephone numbers on hand, flashlights with fresh batteries, a battery-powered radio and clock, bottled water, first-aid kit and medications, nonelectric can opener and tool kit. And know how to open your garage door manually.
• If the power does go out, don't assume Westar knows. Call 1-800-544-4857. If you spot a downed power line, treat it as a live line and call 911 to report it.
• Unless necessary, don't open your refrigerator door. According to the Centers for Disease Control, if the power is out for less than two hours, food in the refrigerator and freezer will be safe to eat.
• For longer periods, a freezer that is half full can hold food safely for up to 24 hours and a full freezer can hold food safely for up to 48 hours. For refrigerated food, pack food into a cooler (an inexpensive Styrofoam cooler will work) surrounded by ice. Use a food thermometer to check the temperature of the food right before you cook or eat it. Food should be no warmer than 40 degrees.
• Have a safe alternative heart source. If that happens to be a gasoline generator, make sure the generator has plenty of fuel.
• To keep heat in the central part of the house, close doors, use towels or rags as doorstops and close drapes and curtains.
• Don't use propane or charcoal grills indoors. Never use a portable generator inside the house or garage.
• Run a small stream of water from your faucets to prevent pipes from freezing.
Driving
The Lawrence Police Department asks you to stay home if you don't have to be on the road.
• Before you travel, make sure you have a full tank of gasoline, emergency kit and a fully charged cell phone. Among other items for an emergency kit: blankets, nonperishable food, first-aid kit, flashlight, candles, matches or light, and shovel.
• Avoid parking on the street. City crews will leave behind massive windrows as they plow, so cars could easily be under a couple feet of snow by the end of the storm.
• Lawrence snow plow crews expect to spend much of Tuesday and Wednesday plowing the city's major streets. Residential neighborhoods won't be reached until Wednesday night and Thursday morning, city spokeswoman Megan Gilliland said.
If you have to be on the road, Gilliland advises looking at the city's snowplow plan (http://www.lawrenceks.org/publicworks/docs/SnowPlow_web.pdf) to map out a route to lead you to a street that's been plowed.
• If you get into an accident, you are legally required to exchange this information with other drivers involved: your name, address, vehicle registration, driver's license number, insurance company's name and insurance policy number.
In minor, noninjury accidents, drivers can just exchange information. However, they must report any accident to police that involves an injury, death or property damage of more than $1,000.
Sgt. Matt Sarna said if no one is hurt and the accident is in a high traffic area, drivers and passengers should exit the vehicle and move to a safe location. However, they should not move the vehicle until instructed by police so police can accurately document the accident.
When roads are treacherous and accidents begin to pile up, police will respond to noninjury accidents as resources allow, Sarna said.
Copyright 2018 The Lawrence Journal-World. All rights reserved. This material may not be published, broadcast, rewritten or redistributed. We strive to uphold our values for every story published.