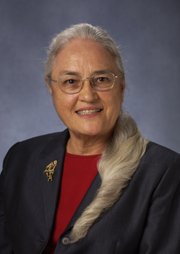 After working for years as a psychology professor, Marigold Linton said she wanted to move into a field where she could reach more people.
So she became interested in helping to pave the way for American Indians and other minorities to enter careers in the sciences.
She was recognized for her efforts last week with a presidential award for mentoring.
Linton, who works today as the director of American Indian outreach at Kansas University, said she was both embarrassed and honored to receive the National Science Foundation's Presidential Award for Excellence in Science, Mathematics and Engineering Mentoring.
And, yes, that meant she got to meet President Barack Obama.
She was pleased to be placed in the front row of the picture of the award winners and was tickled to have the president put his arm around her for the group photo (everyone took individual photos with the president, too).
She's waiting for the photos to arrive.
Linton quizzed the president on the art in the Oval Office — he didn't know the artist of a painting of George Washington hanging in his office, she recalled. And she drew a laugh from the president and fellow awardees when she made a comment after a remark about how many find the office to be smaller than they anticipated.
"The Oval Office may be small," she told Obama, "But you, sir, are larger than life."
The recognition came for an educator and researcher who started out from humble beginnings, and has gone on to make a difference in the lives of many minority students today.
James Orr, a KU molecular biology professor and director of KU's Office for Diversity in Science Training, praised Linton's work at KU, which began in 1998, and said that she has helped invigorate a program that serves about 60 students each year. Her work gives KU and Haskell Indian Nations University students access to faculty members' labs that they likely wouldn't see otherwise.
"She has a personal understanding of the challenges and the barriers that students from the American Indian culture face when they try to move forward in their education," Orr said.
A member of the Cahuilla-Cupeño tribe, Linton grew up on the Morongo Reservation in California, and she said she knows that the quality of education on many reservations makes it difficult for many Native Americans to move up.
Linton said she was the first woman to become a full professor at the University of Utah when she attained that position in 1973 and became known for her research on long-term memory.
Since then, she has gone on to form programs, not just at KU, but also some affiliated with the Society for the Advancement of Chicanos and Native Americans in Science, an organization of which Linton is a past president.
One such program provides leadership training for minority students to prepare them to become deans, provosts and university presidents.
There are few American Indians in those kinds of positions today, she said. One KU student and two from Haskell have participated in that program, she said.
"I could have done all of those things if I had any kind of background at all. Any kind of background at all," she said. "But I didn't."
Copyright 2018 The Lawrence Journal-World. All rights reserved. This material may not be published, broadcast, rewritten or redistributed. We strive to uphold our values for every story published.