Topeka — Gov. Sam Brownback on Tuesday urged Kansans to stay home as a winter storm left most roads snow-packed and stranded motorists in southeast Kansas.
Brownback also ordered state offices in Topeka and Shawnee County closed Wednesday -- the second straight day. The Legislature also will not meet Wednesday.
"First and foremost stay home," said Brownback during a news conference at the State Emergency Operations Center.
He said if people must travel, then they should be prepared with water, blankets and cellphones.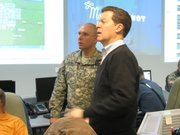 "Don't make yourself a victim," Brownback said.
Kansas Adjutant General Lee Tafanelli, who is in charge of the state's emergency response, said, "We are far from over with this particular disaster."
Most highways are snow-packed, including interstates 70 and 35. Officials said blowing drifting snow was making it difficult for crews to keep the roadways clear.
The Kansas National Guard has been asked to help in Cherokee County to transport emergency personnel to hospitals.
Brownback has issued a disaster declaration for 53 counties, including Douglas County.
Moderate to heavy snow is forecast until early Wednesday morning. Whiteout conditions were reported in southeast Kansas, leaving some motorists stranded.
Tafanelli said one fatality, in Smith County, has been reportedly related to the weather. Janet Devena, 61, of Agra, died in a car accident Monday, according to law enforcement authorities.
Copyright 2018 The Lawrence Journal-World. All rights reserved. This material may not be published, broadcast, rewritten or redistributed. We strive to uphold our values for every story published.